"This is Going to be Your League" Tim Duncan Had Predicted LeBron James' Greatness as Early as 2007
Published 06/15/2020, 4:30 PM EDT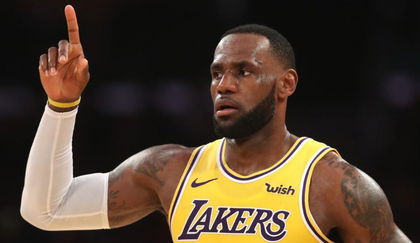 ---
---
One addition in the list of NBA greats is LeBron James. He has swept through opponents in the past decade and changed the face of the game. Former player Tim Duncan had already predicted LeBron's success in the league long back in 2007. Just a few years post that, we did find him dominating the game.
ADVERTISEMENT
Article continues below this ad
LeBron James' Cavaliers faced San Antonio Spurs in the 2007 NBA finals. Spurs won a clean sweep of 4-0, and post the match, hugged LeBron. Tim told him, "This is going to be your league in a little while. But I appreciate you giving it to us this year." They both had a nice laugh after that.
Well, in retrospect, we find that Tim was accurate in his words. Just a few years more into the league, and LeBron had won two championships and won the finals MVP each time. From 2011, he made eight consecutive finals appearances, and it became an era of LeBron James.
ADVERTISEMENT
Article continues below this ad
People started comparing his style of playing with the great Michael Jordan. He did turn things around. In 2013, Tim Duncan met him again in the finals. Only this time LeBron was playing for Miami Heat and he took away the NBA title.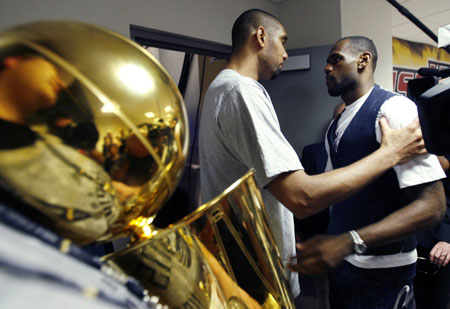 LeBron James did make his mark in the league over the years
ADVERTISEMENT
Article continues below this ad
Today, LeBron is a four-time MVP and 16-time NBA All-Star. In all his three championships, James was named the Finals MVP. He gained recognition at a great pace in those years and became a terrific player that he is at present.
Even to date, the GOAT, as many like to call him, has been playing at his peak at the age of 35 years. In this season, LeBron-led Lakers were the favorites until the season got suspended. He is prominent in the MVP race at this stage as well, alongside some young stars like Giannis Antetokounmpo.
LeBron's is going great in the league and his game is becoming finer day by day. He averaged 25.7 points, 7.9 rebounds, and 106 assists per game this season. He is currently leading the assists charts with such tremendous statistics.
ADVERTISEMENT
Article continues below this ad
Tim Duncan surely didn't know that such a huge star was growing in the coming years, but coincidently he did make a powerful statement back then.