Twitter Loses its Mind Over Jamal Murray's Layup on LeBron James
Published 09/25/2020, 11:36 AM EDT
By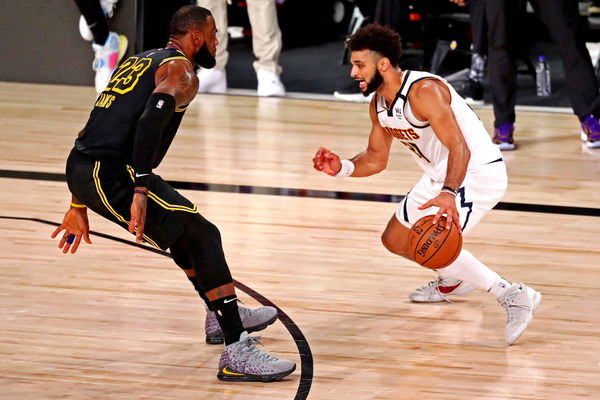 The Western Conference Finals became interesting as the Lakers grabbed another win in Game 4, taking up the series 3-1 against Nuggets. LeBron James and co. haven't faltered this playoff series, and look to hold on to the title in the coming weeks. Despite the Lakers winning the match, Jamal Murray took the show.
Nuggets come close, but eventually slipped away from victory, lacking by a few points by the end. Nevertheless, whoever's day it is, Jamal Murray never fails to impress the viewers. He is having a dream run in these 2020 Playoffs and knocking some mind-baffling shots out there.
Did Jamal Murray just do something so similar to Michael Jordan?
ADVERTISEMENT
Article continues below this ad
Last night in Game 4, Murray went for an up-and-front layup while LeBron James was on him, ready to block. But Murray spun and switched his hands to confuse Bron in the air for an exotic hoop shot after hitting the backboard.
This Jordanesque shot by Jamal Murray is ridiculous!
— Ballislife.com (@Ballislife) September 25, 2020
While fans were in awe of that shot, they eventually realized what Murray had done seemed recognizable in some manner. It was the great Michael Jordan who had hit a similar layup shot a long time back.
Twitter reacts with awe after Murray's 'Jordanesque' layup shot
Netizens and Twitter went bizarre over that incredible move, and the fact that he did it across Bron added to the craze. Murray overpowered the hype of Lakers taking the win last night. His bucket was probably talked about more than how his opponents took the win from under the Nuggets' feet.
MURRAY'S LAYUP PACKAGE 😮 pic.twitter.com/hMfiQx558D
— NBA on TNT (@NBAonTNT) September 25, 2020
Did he dunk that
— Nick Young (@NickSwagyPYoung) September 25, 2020
ADVERTISEMENT
Article continues below this ad
Bro I think Jamal Murray just broke physics and science and my mind 🤯
— Craig Hoffman (@CraigHoffman) September 25, 2020
ADVERTISEMENT
Article continues below this ad
Murray recorded 32 points and eight assists in the fourth game of the Conference Finals. He may have a bunch of moves left for us to watch. Let's see if he can roll over the Lakers next time again.