"Very Scrappy Bunch": Lakers' Duo Anthony Davis and LeBron James Reflect on the Challenges Against Rockets
Published 09/04/2020, 10:28 AM EDT
---
---
It's a big game night as the Lakers take on Rockets in Game 1 of the second-round matchup. James Harden and co. have just grabbed Game 7 decider from OKC to make it to the Western Conference semifinals. It's going to be a star-studded affair as the two teams lock horns on Friday night.
ADVERTISEMENT
Article continues below this ad
LeBron James and his army have progressed well in these Playoffs. Despite the Blazers posing certain challenges to the season favorites, they couldn't stop the Lakers from moving to the second round.
As the Lakers go ahead in the season, Rockets will be an interesting opponent with James Harden and the comeback of Russell Westbrook.
ADVERTISEMENT
Article continues below this ad
While Lakers were pushing themselves against the Blazers, Jusuf Nurkic and Hassan Whiteside were putting Anthony Davis to work under the rim. Now that the small-ball strategists are up for a challenge, it will be PJ Tucker and Robert Covington on the other end.
Anthony Davis considers a good matchup in the semifinals
The Lakers are also coming up with strategies on how to go about the upcoming game with the Rockets. LeBron James and Anthony Davis reflected on their plan moving forward into the next round.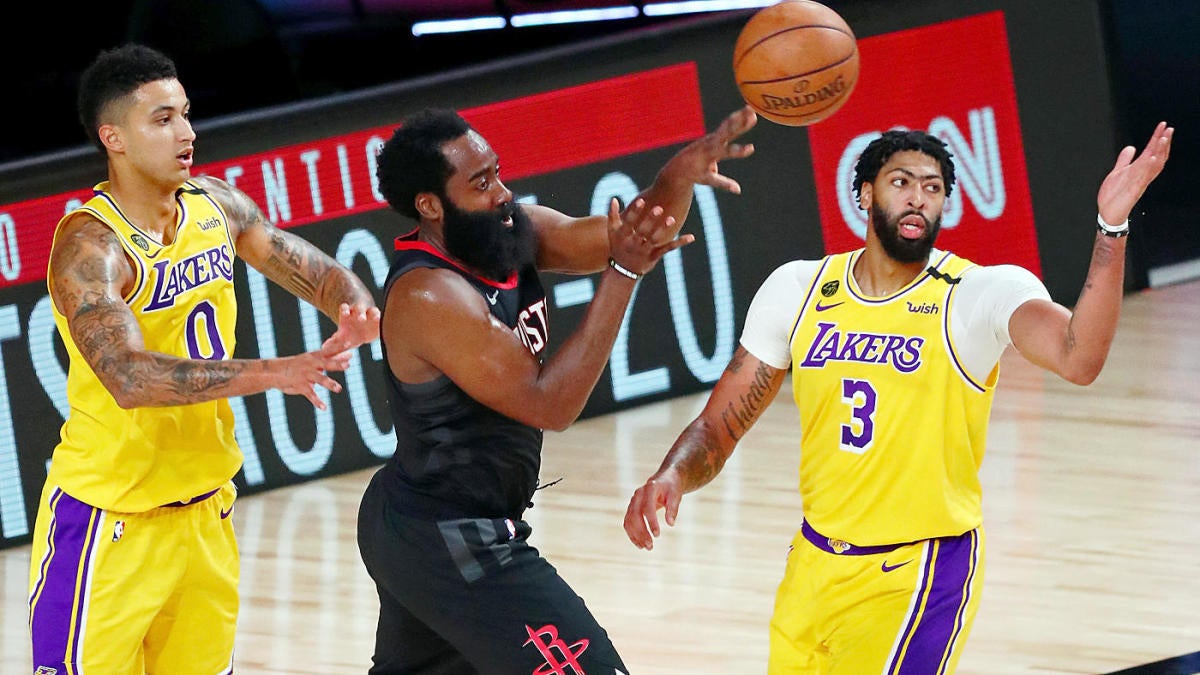 Davis specifically talked about the Rockets' ball-handling and Lakers' preparations for combating them.
"The entire team is good with their hands. They like to strip the ball, be physical and get up under you," he added. "Whereas a traditional big will kinda play off and try to use their length.
"(Houston's) advantage is playing low to the ground and using their hands. It's going to be different for all of us, but I think the quicker the move the harder it is for them to get up under you and be physical, but it's going to be a good matchup for us. We've been prepping for these guys."
Lakers strategize to tackle Rockets' ball-handling skills
.@AntDavis23 & @KingJames weigh in on the unique challenges the Rockets present for the #Lakers in the second round. pic.twitter.com/GqI7VBQJbK

— Spectrum SportsNet (@SpectrumSN) September 4, 2020
ADVERTISEMENT
Article continues below this ad
LeBron James has unleashed his Playoffs mode but will need it more than ever against the offensive powerhouse, James Harden. He has commended Rockets' skill set often and continues to do so even today. LeBron believes that his team has to be mindful of their turnovers.
"Their size, and I'm not talking about height, I'm just talking about their size and athleticism, allows them to cover a lot of ground on the floor, especially in the half-court. Very scrappy bunch, and they do a good job of turning you over. You have to be very cautious with careless passing, especially on the interior. They have guys with great hands. P.J. (Tucker), (Robert) Covington, Russ (Westbrook), James (Harden), they do a really good job with ballhawking. You have to be very mindful of that."
ADVERTISEMENT
Article continues below this ad
Who are you rooting for in this Conference semifinals; Lakers or Rockets?