WATCH: Lebron James' Former Teammate Back in Action Amidst Rumors of Trade to Lakers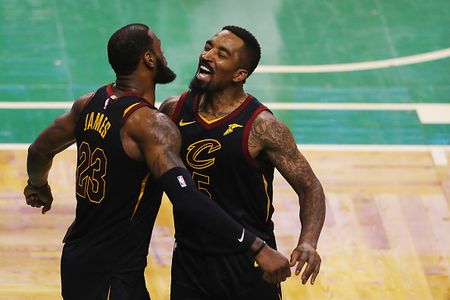 There were recent rumors of the free agent, J.R. Smith filling Lakers guard's shoes in the upcoming season in Orlando. After Avery Bradley opted out of the remaining league, the season favorites are looking for options. But it seems like their hunt is over. Smith was seen taking a few shots and making the most out of his practice in a video just two days after his comeback rumors.
Smith has been out of the league for almost two years now. The last time he was seen playing in a match was in the Cavaliers jersey. After LeBron James' shift to Lakers in 2018, Smith complained about his reduced role in the team that led to major disappointment from his end. In a couple of days, he was waived by the Cavs, and since then entered his free agency period.
JR's been staying ready 🔥

(via @ChrisJHoops, @swishcultures_) pic.twitter.com/TOvyNpiHu8

— Bleacher Report (@BleacherReport) June 24, 2020
Two-year long free agency of J.R. Smith likely to end in Orlando with Lakers
Moreover, the last trading season, Lakers had their eyes set on J.R. Smith but ended up picking Dion Waiters. Well, this time there are higher chances of adding him in the roster alongside LeBron James and Anthony Davis.
Bleacher Report tweeted a video of Smith getting back in his sneakers that was retweeted by NBA master trainer, Chris Johnson. If these rumors turn out to be true, the two ex-Cavs teammates, Smith and James will once again be together.
Lakers will be looking for an in-form Smith so practice is required at the moment after a dry phase in the career. He was named the 'Sixth Man of the Year' in 2013 and also won an NBA championship with the Cavaliers. It will be a major breakthrough for the 34-year old to join a team that is on the road to winning the title.
The team that grabbed the first position on the Western standings this season is in search of a shooting guard. And who better than Smith could do that. Let's see how it works either way.