"We Never Were Lucky" Chris Paul Plays the 'Luck Factor' to Reason the Downfall of Los Angeles Clippers
Published 06/02/2020, 8:30 AM EDT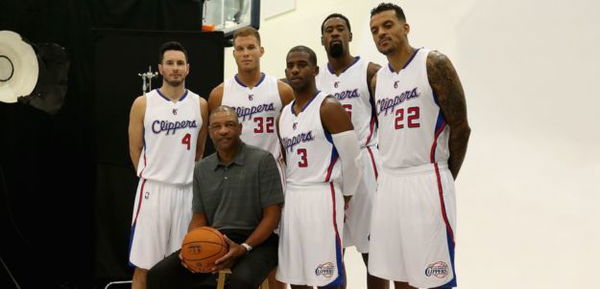 ---
---
Lob City era of the Los Angeles Clippers held immense potential but failed to make it to the finish line. The Hornets four-time NBA All-Star, Chris Paul was traded to the franchise in 2011. He made it with Blake Griffin and DeAndre Jordan that was considered another Miami Big three by the fans. As it turned out, they weren't close enough to even smell the air around the trophy.
ADVERTISEMENT
Article continues below this ad
With a star-studded lineup, Clippers won the first division titles of their franchise history in the 2012–13 and 2013–14 seasons. Moreover, they were giving tremendous performances on the court by defeating their past rivals. NBA fans developed extreme hope from the franchise in the Chris-Griffin era.
The Los Angeles Clippers were getting back in the league after opting for Paul. But the team was left out of NBA finals and even second round of playoffs. They couldn't make it that far.
ADVERTISEMENT
Article continues below this ad
Los Angeles Clippers faced fierce competition in the Chris Paul Era
Chris played the 'luck' card to justify the team's ability to win a championship under Doc Rivers. In a Quibi documentary, Blackballed, the Thunder point guard told, "Doc used to always say in order to win a championship, you gotta be lucky."
He added to his statement, "We never were lucky. I don't think the Donald Sterling thing had anything to do with our shortcomings as a team. It was definitely a bump in the road, something unexpected, but that's life."
The championship teams may take offense to that comment. If luck was a factor to win an NBA title, Michael Jordon would have had a trophy in his first year itself.
Chris Paul averaged splendid numbers as part of Lob City. He even became the NBA All-Star MVP in 2013.
At that time in the NBA, Miami Heat had taken over the league. The Big Three; Dwyane Wade, LeBron James, and Chris Bosh were having a nice time on the court. They won two titles back-to-back during 2012-13. Another giant, Golden State Warriors was picking up at that time with the likes of Stephen Curry and Klay Thompson.
Definitely, there was high-end competition out there, but 'luck' may sound derogatory to those who achieved that feat.
ADVERTISEMENT
Article continues below this ad
ADVERTISEMENT
Article continues below this ad