"You Can't Call Me the B-Word" Miami Star Voices out Against the Ruthlessness of Michael Jordan in Leading Chicago Bulls
Published 05/13/2020, 4:11 AM EDT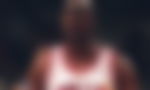 ---
---
The last few episodes of 'The Last Dance' have brought some ugly stories of Michael Jordan and his teammates to the forefront. The legend is one of the most competitive players the NBA has seen. But his ways of motivating others turned out to be brutal in some instances.
ADVERTISEMENT
Article continues below this ad
Nevertheless, he did manage to win six championships in his career. While many look up to him for that competitive spirit of his, Miami Heat star Udonis Haslem doesn't approve of 'certain things'.
Udonis has been a constant with Miami Heat since 2003. He's a leader of the team and is known for his competitiveness in the NBA. Well, whom do you get reminded of by that? Yes, Michael Jordan.
ADVERTISEMENT
Article continues below this ad
The Bulls star had a killer mentality to ensure he ends up on the winning side. He can give everything he has to win the title. That's the intensity Jordan holds. But Udonis thinks MJ's approach as a captain varies from his in one major aspect.
Udonis says Michael Jordan shouldn't have done the name-calling
The 3-time NBA champion was on Instagram live with former player, Richard Jefferson. They talked about Jordan amidst much discussion about his playing days due to the new docuseries. Udonis believes in competition but says that everybody is not equally motivated to win.
"One thing I do know as a captain or as a leader, everybody is motivated differently. You gotta learn how you approach people. You gotta learn how you deal with people." 
ADVERTISEMENT
Article continues below this ad
Udonis doesn't advocate name-calling and he told Jefferson that if something like that happens with him, he might lose control. "Michael Jordan's approach might not have necessarily been my approach on certain things," Haslem admitted.
"It was some name-calling in there. I'm just saying if I'm one of the people Mike talking to like that I might put hands on Mike, that's all I'm saying. I might put hands on Mike. And I love Mike to death. Mike the greatest of all time. But you can't call me the b-word, and the h–, the h-word. Nah, alright, Mike. We gonna have to square off."
Many won't even dare to mess up with Michael, but the Miami star is confident he won't take it. Udonis has had an incredible career in the NBA. And he still continues to take the team to greater heights. When a player of that stature comments on Michael Jordan, then something might be seriously wrong. What do you feel?
ADVERTISEMENT
Article continues below this ad