'He'll Be Fired Up'- 49ers Head Coach Kyle Shanahan Expects Jimmy Garoppolo to Come Back Stronger
Published 03/31/2021, 7:45 AM EDT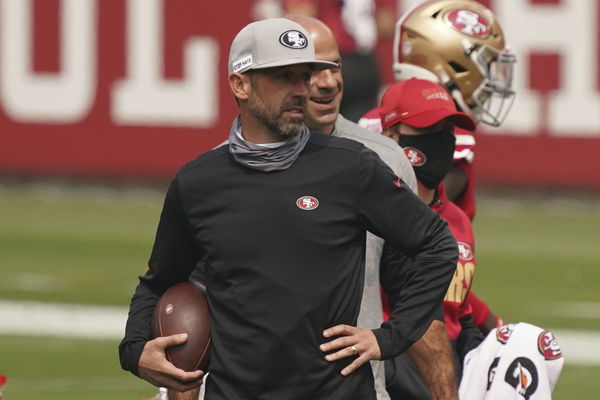 ---
---
It is no secret that the San Francisco 49ers are going to draft a new QB this season to compete with starter Jimmy Garoppolo. The franchise parted ways with a bunch of high-rated draft picks to acquire the 3rd overall pick of the 2021 NFL Draft from the Miami Dolphins. 
ADVERTISEMENT
Article continues below this ad
This puts them within striking distance of landing quarterbacks like Zach Wilson, Justin Fields, Trey Lance or maybe even, as reports suggest, Mac Jones. Who they end up going with only time will tell.
Whoever they end up drafting though is going to have to battle for that starting role. The San Francisco 49ers current starter Jimmy Garoppolo now knows the ins and outs of the league.
ADVERTISEMENT
Article continues below this ad
Having taken his side to a Super Bowl less than a year ago, it's not going to be an easy task to dislodge Jimmy Garoppolo. And Head Coach Kyle Shanahan feels the move to draft a new QB will only further fuel Garoppolo's ambitions.
Jimmy Garoppolo set to fight for QB1 role  
Talking to the media, Shanahan said he expects Garoppolo to be "pissed off" by the decision. But according to him it's not necessarily something to be worried about.
"I'm sure Jimmy was a little pissed off from it, just like I'd be too. But me knowing Jimmy, he'll be fired up and come in and work his butt off," said Shanahan . 
"The more mad Jimmy gets, usually the better he gets. So if he gets madder and stays healthy, this is going to be a good thing for Jimmy. This could be a great problem for the 49ers. I hope Jimmy's alright with it and I expect him to be," he added.
Neither Garoppolo nor his agent has spoken out about the move and both seem content with their silence doing all the talking. 
However, Shanahan asserted that his side is not giving up on Jimmy Garoppolo just yet. With injuries severely impacting his playing time with the 49ers, the Head Coach said Garoppolo remains a player with a lot of untapped potential.
"You have a guy who's really only played one year of football. You look at his numbers, how efficient he was, and how close we got to winning a Super Bowl.
ADVERTISEMENT
Article continues below this ad
"He's got a lot of untapped potential… It's not like we're giving up on Jimmy because he can't play or anything. Jimmy can play," Shanahan added.
Given how things stand, do you see Jimmy Garoppolo enduring as a 49er for much longer?
ADVERTISEMENT
Article continues below this ad