Aaron Rodgers Grabs All Attention In Just Two Words On His Trade Situation With the Jets
Published 03/12/2023, 5:58 AM EDT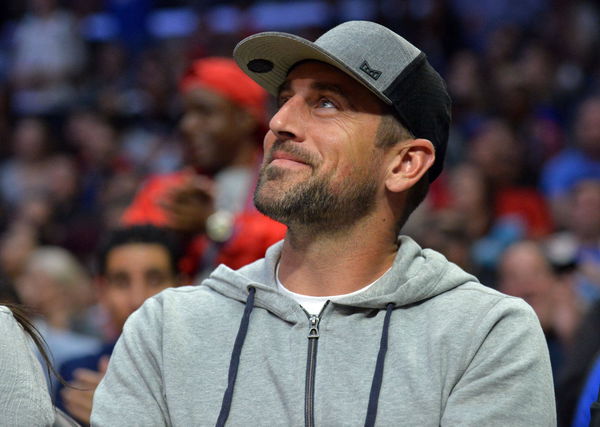 The NFL world has been eagerly waiting to see what happens next in the dramatic ordeal of Aaron Rodgers picking his next landing spot. There has been a lot of speculation and a lot of controversies as to where he might go. He had even undergone a whole Darkness retreat to try and figure out what he'll be doing with his NFL career. However, there soon might be news from the Big Apple regarding his career.
Very recently, the NFL world was abuzz after they found out that Rodgers met with the owner of the Jets. Furthermore, the Jets themselves have made some interesting moves that have Rodgers being very cryptic about his landing spot.
What changes are the Jets making to woo Aaron Rodgers?
ADVERTISEMENT
Article continues below this ad
With the amount of time he has been in the league, Rodgers has certainly earned the title of being a veteran. Furthermore, the QB has shown time and time again that he has the potential to be the key to a Super Bowl win. Keeping that in mind, it is obvious that acquiring Rodgers will not be cheap. Any team that wants him will have to pay a huge salary to the QB for his excellence and experience. However, it seems the Jets are up for the challenge. The Jets' organization made some interesting moves in what might be preparation to bring in Rodgers.
The Jets have restructured the contracts of G Laken Tomlinson, CB DJ Reed and TE Tyler Conklin, creating $15.2M in cap space for 2023, per source.

— Field Yates (@FieldYates) March 11, 2023
The Jets have gone on to restructure the existing contracts of their players to empty out a whopping $15.2 million in cap space. This will go on to open up space for them to bring on Rodgers. Incidentally, Rodgers has been very cryptic about whether he might go to New York.
In fact, he had two cryptic words when he was asked if he'll be going on a podcast. Interestingly, the question came from a former Jets player.
Rodgers' cryptic words about going to the Jets
ADVERTISEMENT
Article continues below this ad
Rodgers recently made an appearance on a podcast with ex-Jets WR Brandon Marshall. Marshall insistently questioned the QB about the Jets being his potential landing spot. After a bit of coaxing, Rodgers gave him a reply. However, his reply was a cryptic two-word answer where he went on to say, "Stay Tuned," and nothing else.
The timing of his cryptic answer as well as the recent developments in the Jets organization seems like a build-up to some monumental changes.
ADVERTISEMENT
Article continues below this ad
Even though Rodgers is withholding information right now, he might be inching toward New York. However, only time will tell us if Rodgers makes his decision to go to the Big Apple.
Watch This Story: Breaking down the most likely landing spots for Aaron Rodgers if he leaves Green Bay
Edited By: Abigail Kevichusa