"Ain't No Way": Former QB Completely Rejects Bizarre Trade Package for Aaron Rodgers
Published 03/17/2023, 3:33 PM EDT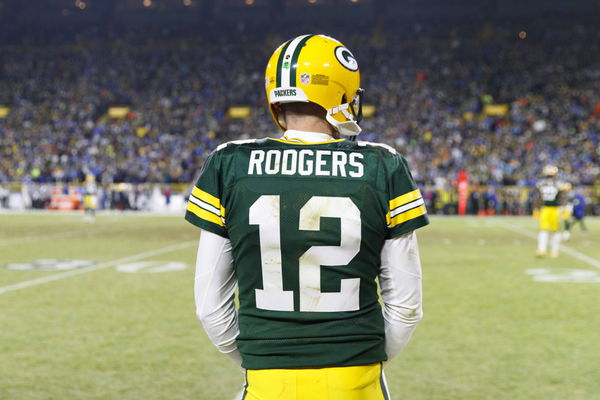 The NFL world has been abuzz with what Aaron Rodgers is doing with his future. However, A-Rod made it clear that he wants to continue his career with New York Jets. So, armed with this new knowledge, analysts and the rumor mill of the league have begun speculating what will be the cost of such a trade between Green Bay Packers and New York Jets. While the Packers have made some of their wants clear, a lot of it has been left to the imagination of analysts.
Some famous analysts have made some interesting claims about what the Jets should be willing to give up for Rodgers. However, after an extreme suggestion for the trade, a famous ex-QB completely rejected what some prominent analysts have suggested. Furthermore, he even offered an even more enticing alternative for the Jets.
How much is Aaron Rodgers worth to New York Jets?
ADVERTISEMENT
Article continues below this ad
While Rodgers has undoubtedly been one of the best quarterbacks in the league, he might be reaching his career's twilight years. At the age of 39, Rodgers is one of the oldest active quarterbacks. Keeping this in mind, one might wonder how much the Jets should be giving away for him. Interestingly, analysts like Stephen A Smith think that the Jets should be willing to give up two different first-round picks for Rodgers. However, ex-QB and Pro Bowler, Robert Griffin III doesn't agree. He took to Twitter to share his thoughts on the hefty price that Smith had suggested for Rodgers.
WHAT IN TARNATION is going on? Ain't no way the Jets should give up two first round picks for a QB that will only play 1-2 years. If the Jets are giving up two first-round picks it should be for the 26 year old Lamar Jackson who will give you a longer return on your investment. https://t.co/qYjqioRnYY

— Robert Griffin III (@RGIII) March 16, 2023
Griffin went on to mention that the suggested price would be too much for a player like Rodgers who might be retiring after a year or two. Furthermore, he also suggested an interesting alternative.
Griffin suggested that the Jets would be better off pursuing someone like Lamar Jackson if they're willing to give 2 first-round picks. Furthermore, there were some interesting reactions from fans after RG3 mentioned his controversial take.
Fans showcase their opinions on the hefty pay Rodgers might garner
There were conflicting opinions about what exactly should be the price for a QB like Rodgers. One fan thought that RG3 was absolutely right about the return on investment.
I'm not a huge Lamar guy but I 100 percent agree with you on this. The runway of the ROI is important!

— Marc D'Amico (@Marc_DAmico) March 16, 2023
Furthermore, one fan spoke about the lack of leverage the Packers have.
After hearing Rodgers air out the dirty laundry yesterday, why would the Jets give that up now? They know it's the Jets or retirement at this point.

— SiberianSneaks (@SiberianSneaks) March 16, 2023
There were also comments about how volatile Rodgers might be in terms of his future.
Would be hilarious if Rodgers just retired after seeing Jets GM insult his skills and say he's not worth a 1st + conditional first.

— whitemarlin (@WhiteMarlin4) March 17, 2023
Additionally, fans joked about RB3's endorsement of Jackson.
The daily Lamar promo is in hahaha.

I'd agree though.

— Brandon Marshall Havener (@BrandonMHavener) March 16, 2023
However, some fans mentioned the issues Jackson currently has in terms of career longevity.
I don't disagree, but Lamar has a lot of longevity issues..his past 2 seasons have been mediocre, especially coming down the stretch. Rodgers has a better track record.

— 🦖Ceejtank⚔️ (@CeejTankGaming) March 17, 2023
Finally, one fan mentioned his endorsement of Rodgers.
ADVERTISEMENT
Article continues below this ad
Lamar is an excellent QB, but Rodgers is an all time great. As for longevity and availability, I'd argue that Rodgers can easily play 3-5 more years at a high level under the current rules while Lamar has missed 10 games the past 2 years which negates the younger argument for me

— Roz Johnwycki (@HDXBro) March 16, 2023
All in all, fans had some conflicting opinions in terms of who the Jets should chase. However, realistically speaking, the Jets are more likely to go after Rodgers, given his GOAT-like resume.
ADVERTISEMENT
Article continues below this ad
While the Packers are yet to make their exact request for Rodgers clear, the Jets might be prepared to make a hefty offer for A-Rod. However, only time will tell how far the Jets are willing to go for a quarterback like Rodgers.
Watch this story: Breaking down the most likely landing spots for Aaron Rodgers if he leaves Green Bay Packers