Amid Dak Prescott-Jerry Jones Drama, Fake Rumor Leaves Dallas Cowboys Fans Petrified
Published 03/14/2023, 10:58 AM EDT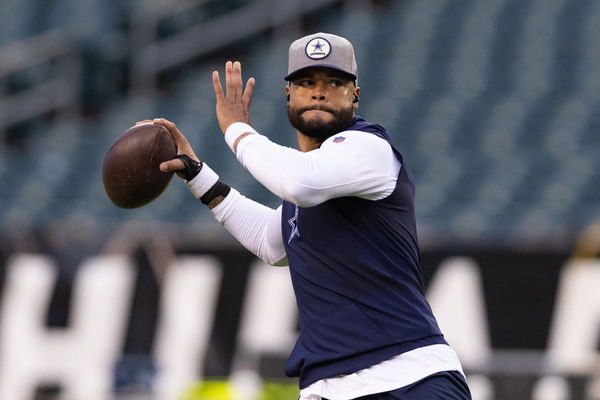 The Dallas Cowboys organization has always had an interesting situation. The relationship between the owner-manager Jerry Jones and the quarterback, Dak Prescott has always been unique. Jones has always displayed a lot of support for Prescott. There have been occasions when fans have even said that the support might be too much. However, amidst some recent controversy, fans have had one ear turned, waiting for any new development about their relationship.
Interestingly, one prominent personality for Cowboys fans went on to share an interesting rumor that has been making its rounds. Fans went on to share their opinion on the parodied take.
Fake news about Dak Prescott goes viral
ADVERTISEMENT
Article continues below this ad
While it is rare for players to make ill comments about their organization and their owners, it wouldn't be out of the ordinary. Therefore, when the supposed news of Prescott dissing Jerry Jones went viral, fans weren't able to believe it. However, NFL insider and analyst, Ricardo Morales, went on to share Prescott voicing out his frustrations with the Cowboys' management.
Per sources, #Cowboys QB Dak Prescott has quietly voiced frustrations with the front office and how #Cowboys Owner Jerry Jones used his contract as a reason the team can't add talent on offense. "I'm done taking the blame for them" Prescott stated as contract talks are ongoing. pic.twitter.com/VvkOjbL9E3

— Ricardo Morales (@SpaceCowboyMED) March 10, 2023
However, it was quickly revealed that the news was a clear parody. It was not indicative of anything that Jones actually said. However, fans were not totally appreciative of the joke.
The fans quickly realized that the news was a parody and that it wasn't actually true. They went on to flood Twitter with their reactions.
Fans have an insane reaction to parody news
NFL fans took to Twitter to express how funny they found the fake news. One fan questioned the nature of the news.
Furthermore, there were comments about how Morales was messing around with his audience.
"Per sources." Got it! Just last week Dak indicated that he always wanted to be a Cowboy and intends on being one his entire career. Which is correct, Ricardo? Or is parody your way out on this one, too.

— Tim Bene (@bene4_tim) March 12, 2023
Some comments spoke about how they were afraid the news was real.
Damn man…you scared me! Lol

— Isaac Simpson (@Isaac__NBA) March 10, 2023
Fans also spoke about some pages on social media that will take this news seriously.
It's only a matter of time till nfl rumors post this and it's all over Facebook cowboys sites lol

— ✭Tony Franck✭ (@MstrFatT_) March 10, 2023
Fans were also wondering about the impact if this was real.
Finally, fans found this fake news ridiculous.
ADVERTISEMENT
Article continues below this ad
All in all, it seems like fans had a good laugh at the expense of the fake news. However, some fans were also speculative about what ripples would be caused if news like this was actually real.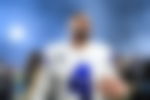 While the news was fake, it is interesting to ponder why such news would even be concocted. It remains to be seen if news like this ends up becoming real in some time or if it stays a parody.
ADVERTISEMENT
Article continues below this ad
Watch This Story: Jerry Jones leaves Odell Beckham Jr on sidelines to hire 33-yo ex-Colts star
Edited By: Deepika Bhaduri