Buffalo Bills Sign New QB After Another Colorless Postseason With Josh Allen
Published 03/16/2023, 12:07 PM EDT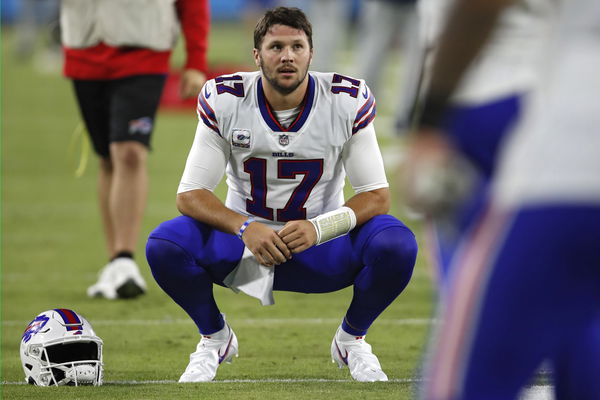 This year's off-season has seen a lot of roster changes. Organizations have been bolstering the way they've been building their teams, and each and every position is under review. Some organizations have started looking for different quarterback signings that will provide a failsafe. While they did make playoffs last season, the Bills might be doing the same with Josh Allen. There has been an interesting development for the Buffalo Bills.
As per NFL Insider, Ian Rapoport, the Bills have made some interesting moves to upscale their quarterback position. Furthermore, it's a coincidence that the Bills have gone on to make such a move after Allen's disappointing performance in the postseason.
This Bills' move might surprise Josh Allen
ADVERTISEMENT
Article continues below this ad
While Allen was able to ensure that his team would make the playoffs, he wasn't able to deliver during the postseason. While the quarterback had a good season with 35 touchdowns and a total of 4.283 passing yards, his playoff performance could've been better. In the AFC wild-card game, the QB had 2 interceptions and 3 fumbles.
Furthermore, in the Divisional round, he had zero touchdowns and 1 interception. Incidentally, the Bills lost that game and it cost them a berth in the AFC championship game. Furthermore, the Bills have made an interesting decision in their quarterback division, possibly to ensure some competition within the organization and a backup for Allen.
The #Bills are signing former #Texans QB Kyle Allen, source said. He has 19 career starts and will compete to backup Josh Allen.

Multiple Allens.

— Ian Rapoport (@RapSheet) March 15, 2023
Ian Rapoport's tweet about the Bills' latest signing showed that they went for Kyle Allen, a former QB for the Houston Texans. Interestingly, Rapoport's tweet had a funny little wordplay at the end of his tweet about the two Allens.
As this news went viral on Twitter, fans chimed in with their comments about the Bills' latest moves.
NFL fans go crazy at the news of two Allens
With the news going viral, NFL fans went on to mention their hilarious reactions to the new signing. One fan spoke about how there are two different Allens on the team.
However, there were fans who spoke about how Kyle Allen is competing for Josh Allen's spot.
No he'll be competing for Allen's spot. Allen is a turnover machine who chokes in the biggest moments

— ❻ LeBillionaire 💰 (@LeBronMostHated) March 15, 2023
There were also comments about how Kyle Allen will become the best Allen on the team.
Fans had already gone on to declare that Josh Allen is no match for Kyle Allen
Finally, fans found the presence of 'two' Allens funny.
ADVERTISEMENT
Article continues below this ad
It seems like fans themselves agree with the decision that the Buffalo Bills have made. In fact, they seem ready to write off Josh Allen as QB1 after his fiasco in the last playoffs.
ADVERTISEMENT
Article continues below this ad
While fans might have dismissed Allen, it is still too early to make a call about his proficiency in the next season. Buffalo will have to wait and see if their main QB is able to perform better in the upcoming season.
Watch This Story: The Last of Tom Brady? NFL Insiders Think 2022 Could Be the Final Ride for Bucs Legend