Cardinals Teammate Sparks a Joke Fiesta on Twitter With His "Grow Up" Comment on 5-Feet-10 Kyler Murray
Published 03/10/2023, 4:00 PM EST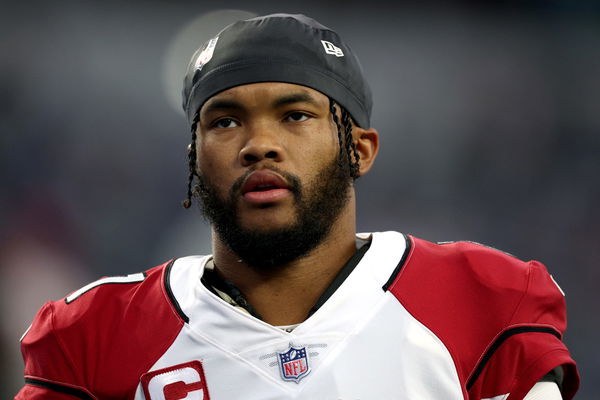 The physical specs of NFL athletes have always come under scrutiny. No matter whether it's height or weight, any kind of outlier has earned comments from fans, analysts, and sometimes even other players. One such player, who has always drawn attention to his height, is the Arizona Cardinals quarterback, Kyler Murray. He had recently been compared to the prospective number one draft pick, Bryce Young, based on their similar heights and weights. Recently, another comment about the quarterback went viral.
NFL Insider, Dov Kleiman went on to share a humorous statement that one of Murray's teammates made. Intriguingly, the statement had a lot to do with the quarterback's height and possibly his state of mind.
Mocking jest from a Cardinals teammate for Kyler Murray
ADVERTISEMENT
Article continues below this ad
While jest among teammates is nothing new, this might have gone too far. Via Twitter, Dov Kleiman shared a humorous statement from Cardinals' offensive tackle, Kelvin Beachum. He supposedly went on to say that Murray 'needs to grow up'. As Kleiman shared this statement, it proceeded to go absolutely viral on Twitter.
Furthermore, as the comment on Murray's need to grow up went viral, there was speculation regarding how exactly the quarterback needs to grow up.
NFL fans went on to make some hilarious comments about the different levels involved in the comments made by Murray's own teammate.
Fans go crazy over the 'grow up' comment
NFL fans went on to mock and make their opinions clear about the growing-up comment that was targeted at Murray. One fan humorously commented that Murray can't get taller unless he takes dire measures.
I don't think he can get taller unless he gets the surgery

— Footballholics Tik Tok (@Footballholics2) March 9, 2023
Furthermore, a fan commented that Murray is too short.
There were also comments that questioned what Murray's teammate was talking about.
Are they talking about his maturity or his height?

— Drew™ (@drew_med6) March 9, 2023
However, there were comments about how these comments might not be good for team chemistry.
That may be true. But need to keep those comments in house. And not link it to the media. All that hurts is your team chemistry

— Blind World Of Sports (@Realjasondorsey) March 9, 2023
Finally, one fan commented about how it is not a good thing to call out your teammates.
ADVERTISEMENT
Article continues below this ad
Not good when you getting called out by your teammate!

— Blind world of sports Drew (@realdrewdorsey) March 9, 2023
All in all, fans themselves made humorous comments about Murray's height. However, a few fans commented on how these kinds of remarks could end up hurting team chemistry.
ADVERTISEMENT
Article continues below this ad
As the comments about Murray went viral, it became clear that the jest leads to something deeper. However, Murray himself has not yet made a comment about the remarks from his teammate. Only time will tell how seriously the situation between the teammates will progress.
Watch This Story: Cardinals HC Kliff Kingsbury's girlfriend brings up the heat on social media after posting a cheeky photo from her vacation in Greece