49ers HC Kyle Shanahan Sounds Bitter on Jimmy Garoppolo After Raiders Move
Published 03/30/2023, 1:41 PM EDT

Follow Us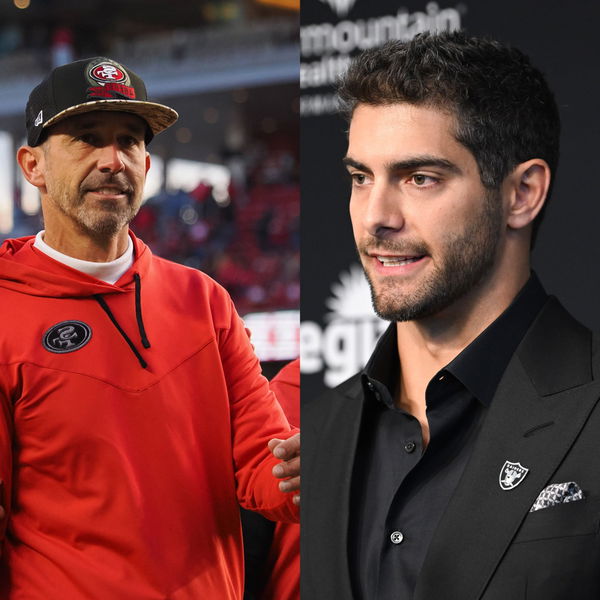 The San Francisco 49ers had a quarterback surplus problem. They had their youngster, Brock Purdy, the reliable Trey Lance, and the veteran  Jimmy Garoppolo. However, in a curious turn of events, the 49ers parted with their quarterback of 6 long years. Jimmy G has left the coast and joined the team at Sin City. However, there seems like there is some separation and sadness between the coaching staff and the old quarterback. An interesting statement from Jimmy G's old coach, Kyle Shanahan went viral on Twitter.
The old coach from the 49ers, Kyle Shanahan went on to make an interesting comment about the way the quarterback keeps in touch. Furthermore, he mentioned how since the trade, he hasn't been able to get in touch with his old colleague.
Is there bad blood between Jimmy Garoppolo and his old team?
ADVERTISEMENT
Article continues below this ad
The end of the relationship between the 49ers and Jimmy G seemed like it might have been a little sour. The league's rumor mill went on to speculate on how the end of the 49ers-Jimmy G relationship might not have been as amicable as it was made out to be. Furthermore, this rumor seems to be gaining more traction after Shanahan's recent statement. He spoke about how he wasn't able to get in touch with Jimmy G after he left for the Raiders.
#49ers coach Kyle Shanahan was asked if he's talked to Jimmy Garoppolo since he moved on to the Raiders.

Shanahan's response: "That would be impossible. You've gotta run into Jimmy to have a conversation with him."

— Nick Wagoner (@nwagoner) March 28, 2023
The coach spoke about how Jimmy G is not someone he can run into to talk to and they haven't spoken since he moved. Interestingly, they've been a duo for the 49ers for years before he left.
Furthermore, fans went on to comment on the way Shanahan was complaining about his former player. They primarily focused on mocking him for his comments.
Fans ridicule Kyle Shanahan's complaint
Fans mocked the way the coach was acting. One fan spoke about how it would be absurd for Jimmy G to talk to his old coach.
Why would Jimmy want to talk to Kyle. Kyle was clear that he wanted nothing to do with Jimmy after last season. Jimmy has the high road and Kyle has the low road. I don't know when we play the Raiders. For one game I will root for the Raiders.

— Michael Seitz (@49erGiantfan) March 28, 2023
Furthermore, there were comments about the coaching staff's actions that might have hurt Jimmy G.
Why would Jimmy want to talk to him. They made it clear when they drafted Trey!!

— LeBron❤️Skip🤣 (@69Basketball69) March 30, 2023
There were also comments about how the coaching staff deserved this.
Sounds like coach is sore cuz he can't get a text back from someone. Good. The more I learn about Jimmy G, the more I respect the dude

— Mboss310 (@mboss310) March 28, 2023
Some comments spoke about how the coach might have made the statement in jest.
people don't really understand the joke here, the joke is that jimmy g rarely replies to his texts lol it's been an ongoing joke with the 49ers players for years

— , (@azzxv) March 29, 2023
Finally, some fans wondered why Jimmy G was still being brought up.
ADVERTISEMENT
Article continues below this ad
Jimmy g is old news, stop bringing him up.🤣🤣🤣🤣

— 💫 (@DavoQuavoo) March 28, 2023
Fans were just mocking the quarterback's old coach for his statement and what it signified. They did not seem to think that the coach might have been joking and assumed he was being serious.
ADVERTISEMENT
Article continues below this ad
While there was no indication that the coach was serious, people assumed he was. It only remains to be seen if Jimmy G can respond to his old coach and speak about it.
WATCH THIS STORY: Richard Sherman attacks Patrick Mahomes amidst Lamar Jackson contract issues