"$250 Million Just Ain't It": Lamar Jackson's Strategy to Chase Russell Wilson Ain't Working, Say Fans Amid Massive Update
Published 03/19/2023, 12:21 PM EDT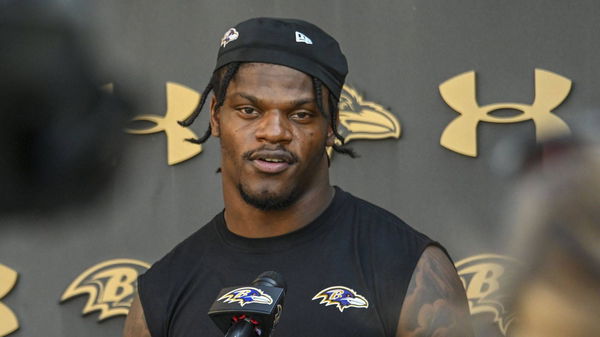 The tussle between the Baltimore Ravens and Lamar Jackson continues. The quarterback has made it clear that he wants a certain amount guaranteed on his contract. However, the Ravens do not seem to be in the mood to give him that security. Over the last few months, even the NFLPA and the fans have come out to show their support for Jackson.
Recently, Jackson took to Instagram to share an interesting clip of an exclusive interview, speaking about his various concerns. He spoke about the interesting quarterback-running back predicament he faced as he had come into the league. Fans reacted to Jackson's current situation with the Ravens.
An exclusive with Lamar Jackson
ADVERTISEMENT
Article continues below this ad
While there are currently many controversies going on with Jackson's contract, he spoke up on Instagram. He shared an interesting clip of an exclusive interview. In the video, he spoke about the stark difference between the kind of offense he used to run in college as compared to the league. He mentioned the difference between the West Coast system as compared to what he was used to. However, as he spoke about the intricacies of the game, fans were only concerned with his contract as well as his future in Baltimore.
 

View this post on Instagram

 
While Jackson passionately spoke about the finer points of the game, fans in the comments only seemed to care about the QB's contractual needs. As Jackson's chase of big contracts like Broncos' QB, Russell Wilson seemed to be going downhill, fans have even begun giving up.
As his post went viral, fans took to the comments to showcase their emotions regarding Jackson's and the Ravens' stalemate.
Fans take Instagram by storm with their emotions
Instagram saw a mixture of emotions from fans as they frustratedly stated their opinions about the trade. One fan expressed their want for Jackson to stay with the Ravens, "Please stay bro we need you desperately."
Another fan was skeptical about the amount Jackson is demanding in his contract and said, "Dude awesome, but fully guaranteed 250 mil just ain't it. Brady cut cheap deals to keep the team good. He doesn't have to go that cheap, but taking a $200 mil deal is a win-win. That's enough money fr and you could still actually win a bowl."
ADVERTISEMENT
Article continues below this ad
However, many fans wanted Jackson to stay with the Ravens: "Please LJ we need you back in Bmore." Fans also reassured Jackson that they stand with him as they said, "We Ridin with you, Lamar!!! No debate we need to keep #8!!!!!"
However, some fans genuinely believed that Jackson could do better and they expressed this: "They don't deserve you in Baltimore, you gotta go somewhere you're wanted LJ."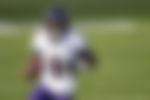 While the standoff between Jackson and the Ravens seems like is stuck in one place, the fans have made their support for Jackson evident. However, only time will tell how the situation between the two parties will progress and if Jackson will get what he wants.
ADVERTISEMENT
Article continues below this ad
Watch this story: "Jackson does more than Aaron Rodgers" former Super Bowl MVP and NFL legend believes Lamar Jackson is more valuable than Aaron Rodgers
Edited By: Deepika Bhaduri