Paralympics 2020: Equestrian Rider Bettina Eistel Hold Reins Between Her Teeth During the Dressage Competition
Published 08/18/2021, 2:26 PM EDT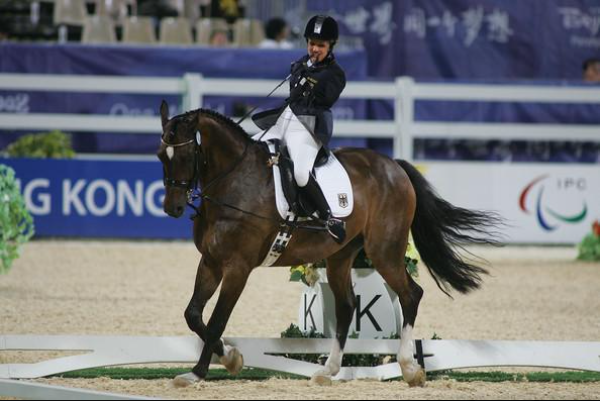 ---
---
After the Tokyo Olympics 2020 came to a close, the Paralympics have started with different events taking place in Japan. Many athletes from all over the world came to Japan to showcase their talents to the world. Moreover, the Paralympics host equestrian events where different riders compete according to different grades. Germany's Bettina Eistel placed the reins of her horse on her teeth and won acclaim across the world for the way she carried out the proceedings.
ADVERTISEMENT
Article continues below this ad
The rider competes under the grade three categories of Paralympic equestrian events, and it was an incredible sight for the former Olympic champion.
ADVERTISEMENT
Article continues below this ad
Equestrian events are a treat to watch!
She is a former Olympic champion who won medals in both Athens and Beijing Olympic Games. Eistel is taking part in Japan to win more medals. But, it is much more than that.
The rider is showing the world that nothing is impossible if you have the passion and the love for what she does. Eistel is a modern-day marvel.
The para-equestrian competitions differ completely from the equestrian events in the Olympics. The men and women riders are allocated under each grade according to their impairment from Grade 1 to Grade 5. Grade 1 is for the most impaired riders while Grade 5 belongs to the lesser impaired riders. Notably, Grade 1 to 3 ride in a smaller dressage area while the 4th and 5th-grade riders perform in a larger area.
Eistel has enthralled fans all over the world with her ability to control the horse with her teeth.
Legacy of Eistel
The rider looked really comfortable with her horse during the competition. Born in 1961, the rider suffered from the aftereffects of the drug, Thalidomide (given to pregnant women before knowing about birth defects). She saddles up, grooms, and does all the basic things from an equestrian perspective with relative ease.
Having the ability to do all of it with her feet is quite incredible.
ADVERTISEMENT
Article continues below this ad
The rider rides her horse, Fabuleax 5, who gracefully moves under her command. The equestrian competitions provide an incredible performance from riders all over the world.
ADVERTISEMENT
Article continues below this ad
The Tokyo Olympics provided the fans with many memorable moments. Similarly, the Paralympics also provides fans with incredible moments like the one with Eistel. A truly commendable effort from a talented rider.
WATCH THIS STORY- Top 10 Moments of Olympic Sporting Spirit