"It's Time…" – Cristiano Ronaldo's Gray Hair Spotted Ahead of Al Nassr Win, Leaving His Loyal Fans Devastated
Published 03/19/2023, 7:45 AM EDT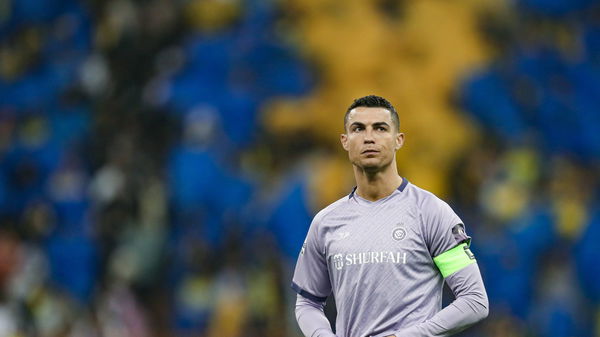 Over the years, Cristiano Ronaldo has proven why he is the greatest of all time. The striker has been determined to win and conquer glory wherever he goes. In fact, the player's individual laurels are enough to prove why he is considered a legendary player.
ADVERTISEMENT
Article continues below this ad
The Portuguese born has enjoyed a stellar career in soccer, thus winning much silverware with his domestic and international sides. After joining Al-Nassr a few months ago, Ronaldo still chooses to prove himself in a completely different league.
ADVERTISEMENT
Article continues below this ad
Since then, the player has enjoyed a fair share of ups and down with the club, thus becoming a key figure at the club. The latter has scored nine goals in eight matches, one of which he recently added during an emphatic comeback against Abha.
Fans downhearted as Cristiano Ronaldo pictured with gray hair
Even at the age of 38-year-old, the player is defying all the odds and is giving his best on the pitch. Moreover, there's no doubt about his fitness levels as he has an athleticism of a 24-year-old.
However, no matter how much he keeps up with his body, age is merely a number that increases every year. Hence, old age seems to have finally begun in the case of Ronaldo, as the superstar was recently pictured with a little gray hair.
This is, of course, a concerning moment for his loyal fans, who are getting quite emotional after they came across the picture.
My GOAT 🐐 is getting old and weak I miss the old days of Christiano Ronaldo 7 siuuuu

— LEE FUNDS (@BIG_LIL_FUNDS_7) March 18, 2023
Fans are getting quite emotional and can't see their GOAT retire. However, many had kind words for the Portuguese striker.
It's sad to think that one day Ronaldo will be hanging up his boots. However, old age is inevitable and it will be happening any day. The only thing fans can do now is cherish the moment right now.
A nostalgic performance
We are sad seeing Ronaldo's gray hair, however, that doesn't rule out the fact he still got it. The skipper led his side to an important 2-1 win against Abha, thus scoring a beautiful long-range free-kick.
ADVERTISEMENT
Article continues below this ad
His goal helped Al-Nassr get back into the match as they were 1-0 down. Moreover, that wasn't the end of his greatness, as Ronaldo yet again did an act of unselfishness. The former Madrid man gave a penalty to his teammate Talisca, who is a contender for the Saudi Pro League top scorer race.
ADVERTISEMENT
Article continues below this ad
WATCH THIS STORY: Meet the Legendary Tennis Player Who Is 3x Richer Than Cristiano Ronaldo
All in all, it was quite a nostalgic performance from Ronaldo, who got his fans into nostalgia. After all, the player deserves some break who was facing quite a backlash due to his performance.