Jailed FC Barcelona Legend Dani Alves Goes on a Hunger Strike in Prison Following Wife Joana Sanz's Divorce Announcement
Published 03/19/2023, 9:00 AM EDT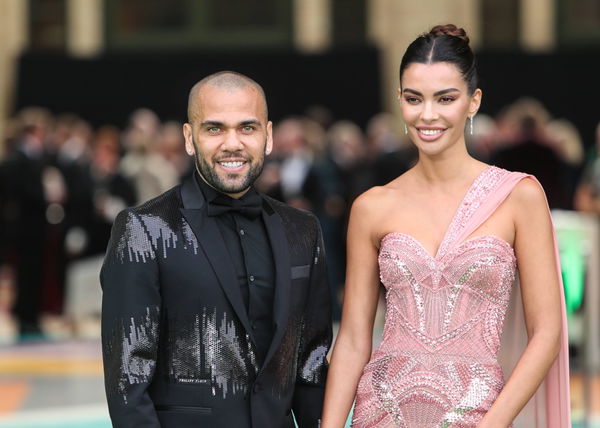 Dani Alves is one of soccer's most renowned players. The Brazilian has had one of the most decorated careers winning 43 overall titles. Both in international and domestic terms, the defender has enjoyed stellar achievements.
ADVERTISEMENT
Article continues below this ad
Moreover, he has played for some of the biggest clubs in Europe, including the likes of FC Barcelona, Juventus, and PSG. And he has enjoyed the majority of his best days at FC Barcelona, to where he even returned last year after moving to Mexican side Pumas.
ADVERTISEMENT
Article continues below this ad
However, things haven't been great in his life outside the game. Alves is currently in jail after he was reportedly involved in sexual assault. The news was a shocking one for the soccer world, as he was arrested on January 20th for attacking a woman.
Dani Alves goes on a hunger strike
A fresh turn of events has taken place in the saga as reports suggest Alves is currently on a hunger strike after his wife Joana Sanz has left him. The Spanish model had visited the player in jail in February, where she demanded a divorce.
Alves is devastated by the situation, due to which he has gone on a hunger strike. There have been days when the player hasn't eaten at all. But Sanz, who tied the knot with Alves back in 2017, is clear on her decision and has also given an official statement regarding the situation.
"Whoever says that love forgets is deceiving themselves or has not truly loved. But I love, respect and value myself so much more. Forgiving relieves me, so I keep the magic and close this stage of life that started on 05/18/15," said Joana Sanz on her social media.
Following his arrest, Joana claimed she lost two pillars of her life after Alves told the magistrate he had consensual sex with the woman. She even removed all pictures she had with Alves from her social media.
Liga MX giants terminate Alves' contract
ADVERTISEMENT
Article continues below this ad
7X league champions, Pumas is suing Alves for $4 million in damages, thus terminating his contract. The player joined the Mexican team back in the summer of 2022. The defender featured in just 13 games and bagged five assists to his name. However, the club terminated his contract earlier this month.
ADVERTISEMENT
Article continues below this ad
Nonetheless, he will reportedly receive imprisonment of eight to ten years. Regarding his hunger strike, nothing has been said by the officials, as they are yet to give a statement regarding the situation.
WATCH THIS STORY: Meet the Legendary Tennis Player Who Is 3x Richer Than Cristiano Ronaldo