Technology Shows Roger Federer Is Superior To Rafael Nadal and Novak Djokovic
Published 09/19/2020, 6:11 AM EDT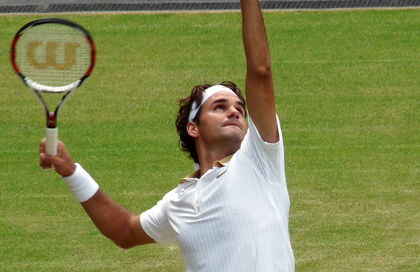 ---
---
One of the biggest questions that has troubled generations of tennis fans is – who is the greatest player of all time? Obviously, fans have different views regarding this but a lot of them vote for Swiss Maestro Roger Federer.
ADVERTISEMENT
Article continues below this ad
There are a lot of reasons why people choose him but we don't have to go through all of them. IBM has made this a lot easier through Watson AI. It has analyzed millions of articles across the internet to find the most popular arguments given by fans. Let's see what it found!
ADVERTISEMENT
Article continues below this ad
Why is Roger Federer the GOAT?
Through its analysis, Watson saw three major arguments raised by fans – best season, records, and game style. Here's how the Swiss Maestro excels at all three aspects.
Back in 2006, he reached the finals of all 4 Majors, winning 3 of them. In addition to that, he won 12 titles and had a win-loss record of 92-5. Clearly, he was at the peak of his powers, leading to one of his best seasons ever.
ADVERTISEMENT
Article continues below this ad
Moving on, Roger has won a record 20 Grand Slams throughout his career. Besides this repeatedly mentioned accolade, he holds so many records that it would take us an eternity to list them all. Needless to say, the Swiss Maestro excels in terms of breaking new ground in tennis.
Lastly, Federer arguably has one of the best games we have ever seen. He can hit phenomenal groundstrokes from the baseline, along with some attacking volleys. He has every shot in the book and he plays all of them with unparalleled elegance.
This is why the Swiss Maestro is loved around the world and why fans look forward to seeing him play. Sadly, they can't do it right now as he is recovering from surgery. Thankfully, the maestro looks all set to revitalize his career in 2021!
ADVERTISEMENT
Article continues below this ad