AMAZING: Andy Murray Survives MTO and 5 Sets to Beat Yoshihito Nishioka at US Open 2020
Published 09/01/2020, 5:04 PM EDT
By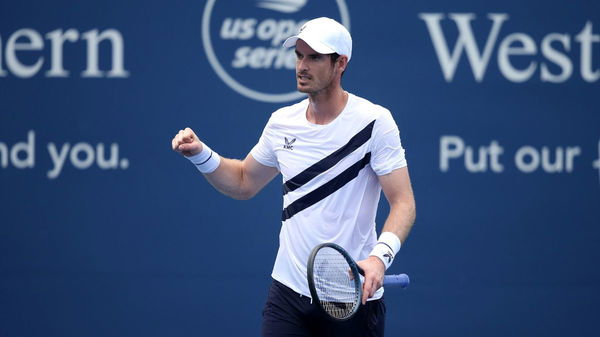 Andy Murray played a five-thrilling match against Japan's Yoshihito Nishioka in the opening round of US Open 2020. He bounced back from two sets to love trail, saved a match point in the fourth set, and then sealed a 4-6, 4-6, 7-6(5), 7-6(4), 6-4 victory in four hours and 40 minutes. He was playing his first Grand Slam match since his hip surgery.
ADVERTISEMENT
Article continues below this ad
In the first set, Andy Murray looked out of rhythm, especially on serve. He managed to hit only six winners and committed 11 unforced errors. The Japanese relied upon his retrieving skills and made it tough for Murray from the get-go.
The US Open first-round match was Andy Murray's first Grand Slam singles match in nearly two years after his hip injury and subsequent surgery. In the very first game, on Murray's serve, Nishioka forced him to deuce before Murray won the game. He only managed to get 2 of 8 first serves in.
Nishioka broke the Murray serve in the 7 game to go up 4-3. Murray was down 15-40 and managed only one first serve in six. Murray held his next service game to love with the help of two aces at 30-0 and 40-0.
Nishioka won the first set 6-4 under some pressure from Murray, but two unforced errors from the Brit helped Nishioka almost cause the first major upset of US Open 2020.
The Japanese broke Murray's serve in the first game of the second set and then again in the third game while holding two of his own service games. Nishioka led 4-0 in the second set.
Murray finally got himself on the scoreboard for the second set in the 5th game. He won the game after 12 points and after committing his 24th and 25th unforced errors of the match. Murray trailing 4-6 1-4.
Murray broke back in the sixth game to make it 2-4 in the second set and then held serve to make it 3-4. Both players held their next service games for the Japanese to close out the set at 6-4.
Nishioka broke Murray's first service game in the third set and consolidated with his own service game, ending it with an ace down the middle.
Andy Murray back to business!
Murray won only his 8th service game to stay alive in the match at 1-2 third set.
Nishioka has been superb in his service games. He wins the fourth game of the set to make it 3-1 before Murray manages to hold his own serve to make it 3-2 in the third set.
Murray broke back! Murray got a glimmer of hope after breaking the Japanese serve in the 6th game to tie the third set at 3-3.
Both Murray and Nishioka then held their service games to keep the third set tied at 4-4 and on serve. Andy Murray managed to hold serve in the 9th game despite being a breakpoint down to lead 5-4 in the third set.
Andy Murray looks like he has not played singles Grand Slam tennis in a long time. He made two unforced errors for Nishioka to hold serve and tie the third set at 5-5.
Murray really struggling to avoid the net, hitting three easy shots for his standards into the net to trail 15-40 and then saved both break points to tie at 40-40. Murray managed to hold serve after saving three break points. 6-5 to Andy Murray in the third set.
It has all been going wrong for Andy Murray, who broke a string just as he was starting to gather some rhythm and momentum. Nishioka won the game to take the third set to a tie-breaker.
Tie-break was tied at 3-3 at the change of sides.
Andy Murray displayed some of his best tennis in the match in that tiebreaker to win the tie break 7-5 and the set 7-6.
ADVERTISEMENT
Article continues below this ad
After the former World No. 1 displayed some warrior-like tennis in the fourth set of the nail-biting encounter was driven into the tiebreaker.  Andy Murray saved a match point at 5-6 and took the 4th set tiebreak 7-6(3). British ace Murray dominated the entire tiebreak and the action sailed into the deciding set to find his place in the second round of the US Open 2020. Before beginning the final set, Murray received a medical time out.
Deciding set – Game on!
After four hours of play former US Open champion Murray began the set by saving a break point with an unplayable forehand and with Nishioka netting the ball he held his serve at 1-0. The duo displayed some grueling tennis and was failing to make errors in the tight battle.
ADVERTISEMENT
Article continues below this ad
However, Andy came up with a double fault at 2-2 and gave Nishioka a 3-2 lead in the deciding set. The Brit wasn't holding back and immediately returned the scales to balance at 3-3. With all this unbroken momentum Andy held his serve to love and led by 4-3 in the see-sawing match.
Andy continued to play smooth tennis and inched closer towards his victory. At 5-4 on Nishioka's serve, Murray broke his serve and sealed his first major victory after his career-threatening surgery.