"A Fighter"- Novak Djokovic, Rafael Nadal and Others Send Heartfelt Messages to Carla Suarez Navarro
Published 09/01/2020, 4:40 PM EDT
By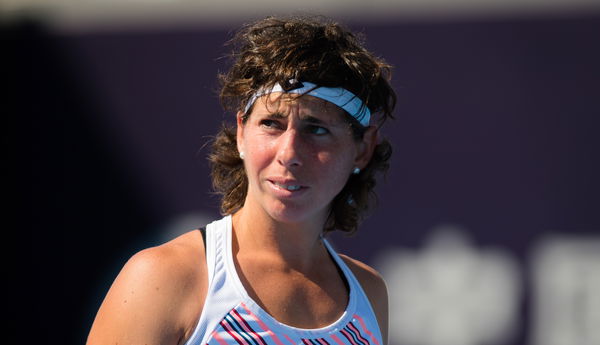 Spanish tennis player Carla Suarez Navarro has announced via a tweet that she has been diagnosed with Hodgkin Lymphoma and will have to undergo chemotherapy for six months. She had earlier withdrawn from the US Open 2020 for health reasons.
Following her announcement, she received support from the entire tennis fraternity. There has been an out-pour of support  for her from a lot of tennis players including Novak Djokovic who tweeted,
"Carla, you are such a fighter and I have no doubt you'll get through this. Stay positive and come back soon."
ADVERTISEMENT
Article continues below this ad
Her compatriot Rafael Nadal tweeted saying "A lot of strength Carla in these tough moments of life. Surely as you say positively, the strength you've always had and the necessary help you get!"
Mucha fuerza Carla en estos momentos duros de la vida. Seguro que como dices con positivismo, la fuerza que siempre has tenido y la ayuda necesaria lo consigues!
Un beso grande 😘 https://t.co/GKg0IcENO5

— Rafa Nadal (@RafaelNadal) September 1, 2020
Del Potro tweeted saying, "Much strength, Carla!! A big hug"
ADVERTISEMENT
Article continues below this ad
Simona Halep also sent Carla a message of support saying, "Carla. I'm so shocked and sad to read this news. I'm thinking of you and know that a strong and special person like you can get through this. Big kisses, Simo"
Madison Keys tweeted saying, "Thinking of you and sending you all the positive energy and thoughts!
Petra Kvitova also let her support known by tweeting, "Carlita if I know somebody who can deal with this, it's you! You are a fighter and great champion with lots of positivity. Sending you strength and hugs"
ADVERTISEMENT
Article continues below this ad
The official twitter handles of Roland Garros and Wimbledon also made their support known by tweeting, "We are with you, Carla! Much courage and a lot of champion strength! A hug" and "Wishing you all the best for your recovery, Carla".
Carla Suarez Navarro reached 6 Grand Slam quarterfinals, represented Spain in Fed Cup, and had a career-best ranking of world number 6.