The True Gentleman Of Tennis – Top Sportsmanship Moments Of Roger Federer
Published 03/08/2020, 12:33 PM EDT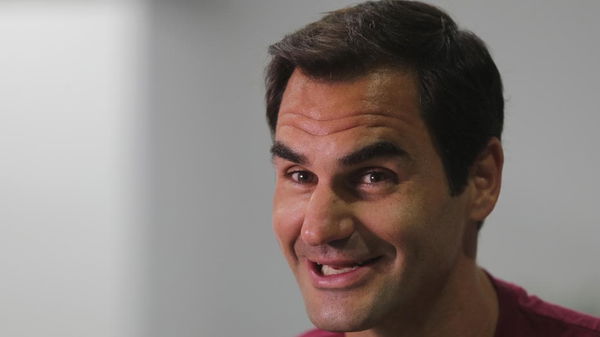 ---
---
When we talk about a complete sportsperson, we are talking about Roger Federer. Who is a complete sportsperson? Is it someone who wins the most matches? Or is it someone who has the most fans or breaks the most records?
ADVERTISEMENT
Article continues below this ad
The answer will differ for each fan. However, not only does Federer qualify himself as a legend based on his sports performances, his sportsmanship is what separates him from the lot. The Swiss maestro is one of the most compassionate people that you will meet in real life. This side of his persona spills onto the court as well, as he maintains a respectful demeanour and plays the sport like a gentleman.
In a sport that is determined by the margins, you are being set up to lose your temper. Shouting at ball boys, fighting the umpire, abusing your opponent- it is all a part of tennis. However, the Swiss star is someone who has established himself as a man with composure. Not only is he respectful, but he is also not the one who's known to lie about a point if he has not won it.
ADVERTISEMENT
Article continues below this ad
Maybe this is the reason why he's won the Stefan Edberg sportsmanship award a record 13 times. In this article, we chronicle some great sportsmanship moments of the legend from Switzerland.
Know More – The Incredible Match Winning Streak Of Roger Federer – His Era Of Dominance
Top sportsmanship moments of Roger Federer
Here are some of the top Federer sportsmanship moments:
Giving Marcus Willis the moment of his life (Wimbledon 2016)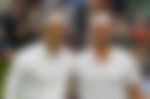 2016 was a special year for then 25 year old Marcus Willis. He was ranked 772 in the world and had almost lost hope from his career. The Britisher was looking to give up and become a coach. This was until some luck and good performances landed him in a match against Roger Federer at Wimbledon.
Even though the match was a foregone conclusion, Willis played with all his heart. He eventually lost the match in straight sets. However, Federer didn't look like he slacked for one bit, he even confessed after the match that he treated Willis like a top 50 opponent because he played like one.
The most heartwarming thing from the match was the incredible support that Willis received from his home crowd. A compassionate Federer shook hands after the match and sat down instead of greeting the crowd. This was because he allowed the relatively unknown Willis to bask in his moment of glory.
Willis greeted the crowd as the true sportsman looked from the distance.
Roger Federer vs Alexander Zverev (Various moments)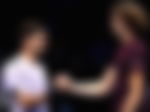 There are various moments of Federer sportsmanship in matches against Alexander Zverev. Let's talk about their Hopman Cup encounter first. In 2017, as Federer and Zverev collided in the Hopman Cup, Zverev was serving.
One of his shots was called wide by the ball umpire. Federer wasn't so sure as he told Zverev – "Close, very close". Zverev trusted the instincts of his idol and went for a review. It was indeed in and the fans were again awestruck by the sportsmanship of Roger Federer.
The same Hopman cup saw Federer hug and make a little ball girl comfortable before the start of his match. In fact, the little girl was crying as she saw her favourite tennis player. Federer kind words finally made her smile! His opponent in the mixed doubles match, Alexander Zverev, echoed the sentiments in each of our hearts as he assured the little girl that Federer was a nice guy.
The third incident involving the two came at the ATP Finals of 2018. As Federer and Zverev engaged in a gruelling rally, the ball boy made a mistake. A ball slipped from his hand and entered Zverev's line of vision. This made him stop the mid rally and the point was replayed.
This time, Zverev scored an ace. Federer fans got angry as they booed and heckled. However, a calm and composed Federer assured post-match that he harboured no anger against Zverev. In fact, he completely respected the decision. He even went out of his way to assure the ball boy that it was a human error and to forget about it.
Federer made it clear that he didn't want this single incident to scar him for life.
Roger Federer vs Stan Wawrinka (Basel 2011)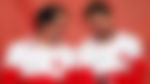 Federer displayed more class during a match as he battled Wawrinka in the Swiss indoors semifinal of 2011. As Federer led the match 7-5, 5-2, he was leading 30-15 on his serve.
Both battled in a good rally. However, Wawrinka twisted his leg and fell down mid-rally. As Federer steered the ball clear, the umpire gifted him the point and the scoreboard showed Federer at 40-15. However, an honest Federer clarified that he had hit the ball out and the score should be 30-30 instead.
Upon replay, the chair umpire discovered the truth. Essentially, Federer sacrificed two match points to secure fair sports. He eventually went on to win the match in the same game on his serve.
Know More – "You're Out There On Your Own" – John McEnroe Says Roger Federer Has It Tougher Than Tom Brady
Roger Federer vs David Ferrer (Madrid Open, 2010)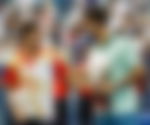 This one might not sound like that big of a deal but is the little moment between a game that will give you joy. As David Ferrer served against Federer, he hit the ball straight onto the net.
However, Roger clarified that he was not ready. He gifted another first serve to David Ferrer. This cute little gesture was met with applause by the fans. Like in all his matches against David Ferrer, Federer went on to win the closely contested match.
Roger Federer vs Robin Haase (ATP Rotterdam 2018)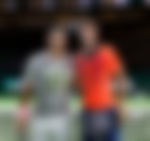 Federer and Haase faced off against each other in the quarterfinals of Rotterdam. Both players had won one set each. Federer lead 1-0, 40-15 in the third set. The Swiss maestro served wide but the point looked like a direct ace. As the crowd cheered, Federer lined up for a second serve.
Haase was bemused by this as the line umpire had not yet made his decision. He waved to Federer saying – "Roger, no one called 'out'. Federer gave a simple reply saying – "It's out". The referee had no choice but to respect the decision.
Everyone including the crowd, his opponent and the umpire was amazed at the incredible sportsmanship of the great man.
A darling for his fans (Bonus)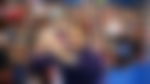 ADVERTISEMENT
Article continues below this ad
Last but not the least, Roger going out of the way for his fans cannot be ignored.
The most prominent example of this is his stints with the 'Make a wish' foundation. In 2013, a seventeen-year-old Beatriz Tinoco made a wish to meet Federer. She was struggling with cancer. Read this article to find out what happened next.
The 2011 French Open saw a similar Federer incident. As a fan was leaning out of the railing to see Federer, she fell off. Federer greeted her to save the moment of embarrassment. He even clicked a picture with her.
ADVERTISEMENT
Article continues below this ad
All these and many more make Roger a true sportsperson. If there are any more sportsmanship moments that we missed out on, tell us in the comments. What is your favourite Roger Federer sportsmanship moment?