The Undertaker's Daughter Scares Him to Death Every Year on His Birthday With This Gift
Published 05/26/2022, 11:30 AM EDT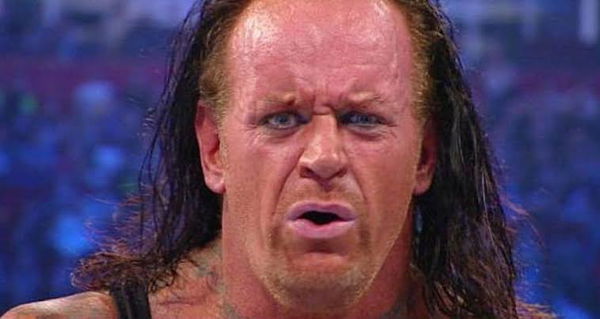 The Undertaker is one of the longest-serving superstars in WWE history. Over the years, he has created and broken many records. 'The Deadman' was one of the scariest superstars in WWE and his presence was enough to scare his opponents. However, in the recent episode of 'The Wives of Wrestling Podcast,' it was revealed how Taker was afraid of Cucumber.
ADVERTISEMENT
Article continues below this ad
The podcast features Kim Orton, Giovanna Angle, and Michelle McCool. While they were discussing what are the things that wrestlers are afraid of, the point of The Undertaker being afraid of Cucumber came up.
ADVERTISEMENT
Article continues below this ad
Orton's and Angle's wives were shocked to hear this, considering The Undertaker carries the Deadman character in WWE. Talking about this McCool states, "We can't even have one in the room. Every birthday, [daughter] Kaia gets cucumbers. She'll like put them under his pillow, she'll put them in his car. Cucumbers, he can't even smell them… can't even be around it."
McCool mentioned that every year on his birthday, The Undertaker's daughter scares him with her cucumber prank. Moreover, McCool revealed the reason why The Undertaker hates cucumber. She said, "He ate so many cucumbers one day that he got sick. Ever since then, it was just game over."
The Undertaker discusses his cucumber fear
The Undertaker had one of the greatest records of 21-0 at WrestleMania. As a wrestler, it is unthinkable to come close to the record, which is considered the greatest in WWE history. In the WWE, The Deadman was well-known for his terrifying persona. However, the WWE universe was taken aback when they found that The Undertaker is terrified of cucumbers.
ADVERTISEMENT
Article continues below this ad
Following Paul Bearer's disclosure that the Deadman dislikes cucumbers, for years, there have been claims that Undertaker was terrified of cucumbers, as Bruce Prichard previously discussed on his show. On the Pardon My Take podcast, The Deadman addressed the issue, saying that he doesn't have a fear of cucumbers, only a dislike for them.
On the Pardon My Take podcast he said, "Okay let's get this straight…I'm not scared of cucumbers. I just don't like cucumbers, okay?" he began. But, what would happen if someone brought one in at that moment? "I'll probably leave the room, but I'm not gonna run. If they're whole, that's one thing. But if they're cut up."
ADVERTISEMENT
Article continues below this ad
Watch This Story: WWE Superstars With The Highest Number of WrestleMania Matches
What do you think of The Undertaker's dislike for cucumbers? Let us know in the comment section.