VIDEO: Olympic Boxer Refuses to Accept Silver Medal After His Defeat at Tokyo Olympics 2020
Published 08/05/2021, 2:40 AM EDT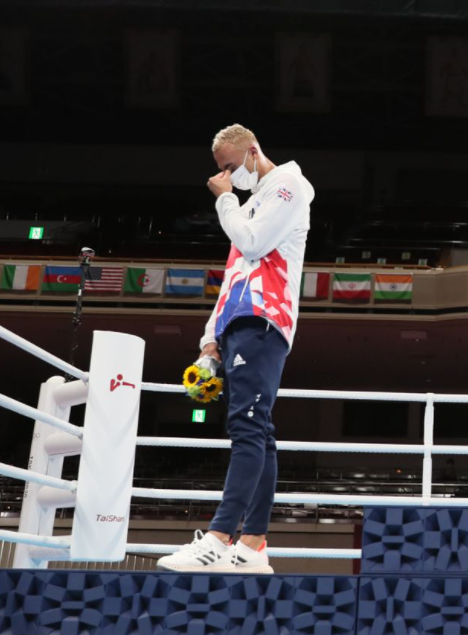 ---
---
Winning a medal for your country in the Olympics is a dream moment for a lot of athletes. However, there has been a recent trend where sporting personalities refuse to accept their silver medals after not winning gold. Although their determination needs to be applauded, it counts for poor sportsmanship for some. Similarly, Britain's Ben Whittaker did the same.
ADVERTISEMENT
Article continues below this ad
After his loss to Cuba's Arlen Lopez in the light-heavyweight gold medal match at Tokyo Olympics 2020, Ben refused to wear the silver medal on the podium. The act has received widespread criticism and support.
ADVERTISEMENT
Article continues below this ad
Whittaker refuses to wear a silver medal at Tokyo Olympics 2020
Because of Covid-19 protocols, athletes now receive the medals which they put on themselves. However, Ben received the medal and stuffed it into his pocket while looking down dejected during the victory ceremony. His antics stunned the audience in attendance.
Lesson on how to be an Olympian:
UK boxer Ben Whittaker didn't win the gold he'd hoped for, refused to wear his silver medal and sulked on the podium.
UK heptathlete Katarina Johnson-Thompson suffered an Achilles injury, fell, got up, refused a wheelchair & hobbled to the finish. pic.twitter.com/PURAxXX9Nx

— thebritisher (@thebritishertwi) August 4, 2021
The boxer looked distraught after he lost the match, which vice versa shows his winning mentality. Ben was expected to win the gold, but Lopez had other ideas. After putting the medal into his pocket, Whittaker took it out again for the photographers while looking down all the time. Fans have voiced out their opinions on the matter and have criticized Ben for showing no sportsmanship.
Similarly, England players removed their runner-up medals from their necks after losing their final against Italy in the Euros. The movement is debatable. Some are in favor of his decision, while others are not. But the boxer spoke about the issue and addressed his antics in an interview.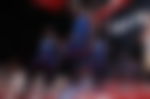 Ben Whittaker congratulates Arlen Lopez
Whittaker gave his respects to the gold medalist from Cuba after his match.
"Yeah, so, I didn't win a gold. I lost a gold, so to me, it's a failure so I am not going to celebrate silver at the moment. I am sure over the years I will look back and see what an achievement it is. You don't win silver…you lose gold. So that is why I was so emotional. Nobody trains for silver or bronze. Everybody up here trained for the gold medal. I woke up this morning truly believing this was my time," said Whittaker.
ADVERTISEMENT
Article continues below this ad
"Congratulations to Arien. It was his time. He is a great boxer. I just have to go back to the gym, change a few things, work harder, and hopefully next time it will be my turn," said Whittaker.
WATCH THIS STORY- From His Game winner on Debut to His Multiple Gold Medals, Kobe Bryant's Best Olympic Moments
ADVERTISEMENT
Article continues below this ad
Despite losing the gold medal and stuffing the silver in his pocket, Ben showed remarkable sportsmanship in applauding his rival after a tough match. Now, he will aim to go one better at Paris 2024.
Unique and iconic moments keep coming at the Tokyo Olympics 2020. World records, debut victories, and a lot more are happening in this year's Olympics. Ben Whittaker's actions would add to the portfolio of exceptional moments at Olympic events. Do you think what he did was right?