Tokyo Olympics 2020 Bans German Coach for Punching the Horse
Published 08/08/2021, 12:14 AM EDT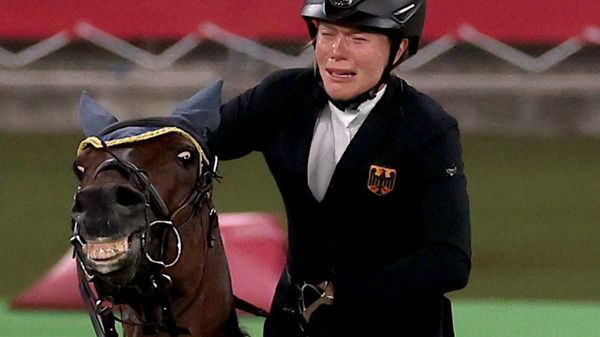 ---
---
During the Tokyo Olympics 2020 Pentathlon events, an incident occurred which sparked trouble. A German Pentathlon team coach punched a horse with his fist, which caused a lot of widespread criticism amongst the sporting community. She punched the horse while it napped and received widespread condemnation. While Annika Schleu led the competition going into the showjumping phase, her horse refused to jump after failing on one hurdle. After that, the incident happens which caused a massive uproar as the coach got banned.
ADVERTISEMENT
Article continues below this ad
There were many social media posts to support the horse, while it hurt a lot of sentiments.
ADVERTISEMENT
Article continues below this ad
Team coach banned at Tokyo Olympics 2020
The incident happened when her horse, Saint Boy, napped. While Annika tried to kick him to move forward, the horse came near to the fence. During this time, coach Kim Raisner leaned over the fence and gave him a blow.
The horse started the race but failed to make a jump, and fear was clear after that. The governing body for Pentathlon gave out a statement regarding the matter.
"The EB reviewed video footage that showed Ms Raisner appearing to strike the horse Saint Boy, ridden by Annika Schleu (GER), with her fist during the riding discipline of the women's modern pentathlon competition."
"Her actions were deemed to be in violation of the UIPM competition rules, which are applied to all recognised modern pentathlon competitions including the Olympic Games," mentioned UIPM.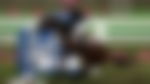 Must protect horses
The clear outrage amongst many people led to the coach's ban. There are many questions about the welfare of the horses during the events. Many horse-rider combinations withdrew after spotting blood on their horses.
The welfare of the horses is being questioned after this incident, but the governing body spoke about changing the sport for the betterment of both the horse and the rider.
ADVERTISEMENT
Article continues below this ad
"It needs to be redesigned to protect horse and rider. The welfare of the animals and fair competition conditions for the athletes must be the focus," mentioned DOSB.
ADVERTISEMENT
Article continues below this ad
It's important to keep horses safe during the competitions. But the Tokyo Olympics 2020 officials have stopped a lot of events because of many injuries to horses. Even though the equestrian competitions happen, the need for better care for horses is necessary.