Katie Ledecky Reveals How She Trained for Monumental 1500m Race
Published 08/12/2021, 8:18 AM EDT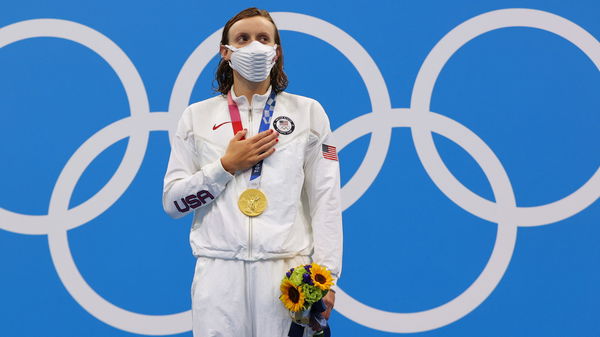 ---
---
Despite her early loss to Ariarne Titmus in the 400-meter freestyle event, Katie Ledecky never lost her confidence. Leading to the Tokyo Olympics 2020, the match-up between Ledecky and Titmus was well hyped. However, Ledecky came back stronger and won two golds in her signature events; 800 and 1500-meter freestyle. By displaying an immense amount of determination and panache, Ledecky swam past other competitors and won the race dominantly.
ADVERTISEMENT
Article continues below this ad
But what does she do to create this sort of dominance?
ADVERTISEMENT
Article continues below this ad
Ledecky's dominance in the 1500-meter freestyle
Possessing a unique swimming technique, the athlete showed a steely resolve to win the races in Tokyo. Despite winning gold in Rio 2016 for the 200 and 400-meter freestyle races, the Australian swimmer Titmus dethroned her in Tokyo. But that didn't stop her from dominating in her signature events.
With the 1500-meter freestyle making its debut in this year's Olympic Games, the swimmer won it with significant ease. In a recent interview with NBC's TODAY Show, the correspondent asked her about the time she spent in the pool during the race as Ledecky gave a perfect response:
"A little over 15 minutes."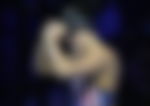 Yes. A little over 15 minutes. That's the time she spends inside a pool for the 1500 event.
But this is Ledecky. She is the current world record holder for this event clocking a time of 15:20.48. A normal swimmer takes around 16 minutes to complete the event, but things are totally different, for Ledecky.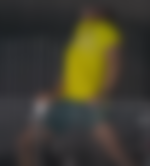 Katie Ledecky gives insights into her workout routines
Moreover, the interviewers focused on her workout routines as well. Ledecky spoke about the different routines she followed during her preparations for the Olympics.
"We train pretty hard. I swim 10 times a week, three times in the weights room, and just putting in a lot of work. So team USA won two in that event, which was a great way to start," said Ledecky.
There must be a combination of power and endurance for a distance swimmer who competes in the Olympics. Different training routines have helped her maintain this balance since she made her debut in 2012. Some of her workout routines are incredible.
She starts her morning swim at 5:00 AM and covers around 130 laps in a 50-meter Olympic pool. Likewise, after a brief rest, she swims again for another 320 laps. Inhumane as it sounds, that's what it takes to be an Olympic Champion. In addition, she keeps a record of her training in a log and recovers by drinking her favorite Chocolate Milk. The commitment and determination to be the best are incredible.
ADVERTISEMENT
Article continues below this ad
Katie is a living legend.
The US swimmer now aims to win more medals in Paris 2024. Despite the recent arrival of Ariarne Titmus, Ledecky is one of the most famous swimmers in the world. She is a humble woman who keeps breaking boundaries in the swimming world.
WATCH THIS STORY- Tokyo Olympics 2020: Simone Biles Heartbreaking Withdrawal, Michael Phelps Supporting Her, Everything Else You Need to Know
ADVERTISEMENT
Article continues below this ad