Conor Mcgregor Laughs Off Floyd Mayweather's $35,000 Winnings From UFC 264
Published 07/12/2021, 1:57 PM EDT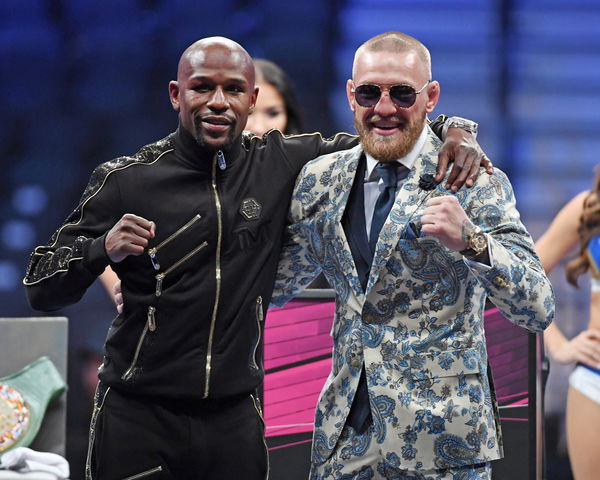 ---
---
Floyd Mayweather is undisputedly boxing's most bankable athlete. 'Money' is also notorious for making outlandish bets across sports and seldom misses with his predictions.
ADVERTISEMENT
Article continues below this ad
When UFC came around with one of their biggest trilogies to date, McGregor vs Poirier III, Mayweather, in tradition, didn't miss with his bet.
Mayweather bet an outlandish $50,000 on Poirier to beat Conor McGregor. With 'Notorious' fracturing his leg during the fight, Poirier was able to get the win.
ADVERTISEMENT
Article continues below this ad
Poirier was favored to win the fight by the oddsmakers as well, who put him as -140 favorite. Mayweather was able to cash in on $35,714.30 from the fight.
He took to social media to thank 'The Diamond' for the payout. McGregor, however, laughed off the $35k Mayweather made betting against him. "$35k!", he exclaimed in the reply that he made to his rival online.
The Floyd Mayweather-Conor McGregor saga continues
It could be interpreted that Mayweather made the Twitter post to spite the Irishman, who is one of his biggest rivals to date. Both have two of the biggest names in combat sports at the moment.
Their boxing fight was one of the most successful showcases of the sport to date. The Mayweather-McGregor pay-per-view was the second highest-grossing boxing PPV of all time. Both of the fighters ended up making a fortune from the fight.
Conor McGregor, who was already the biggest draw in UFC at the time, added about $100 million to his bank from the fight. Launching his own business endeavors in the aftermath of the fight, McGregor has steered his way to becoming the highest-paid athlete of 2020, according to Forbes.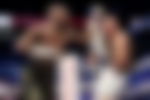 That was 2017. The duo has gone back and forth online and in the media ever since. McGregor was the last to fire shots at his American counterpart, flirting with the idea of a potential rematch with 'Money' in an interview with Stephen A. Smith.
WATCH: 5 Things You Missed At Manny Pacquiao vs. Errol Spence Jr. Kick-Off Press Conference
Apparently, the Mayweather-McGregor saga is yet to culminate at a definitive ending. With both of the prizefighters engaging in banter online, one can contemplate what the future may hold for the duo.
ADVERTISEMENT
Article continues below this ad
McGregor would have to recover from the broken leg before restarting his training, sidelining him from active competition for some time.
His counterpart, however, has announced his complete retirement from the sport after his last exhibition against Logan Paul.
It is less likely that the paths of the two champions would collide again. However, it is still amusing to see old rivals continue to have a go at each other whenever the opportunity arises.
ADVERTISEMENT
Article continues below this ad