Adult Star Kendra Lust Replies as Ex-UFC Champion Israel Adesanya Makes X-Rated Hooters Comment Following Rebranding Reports
Published 12/30/2022, 9:15 AM EST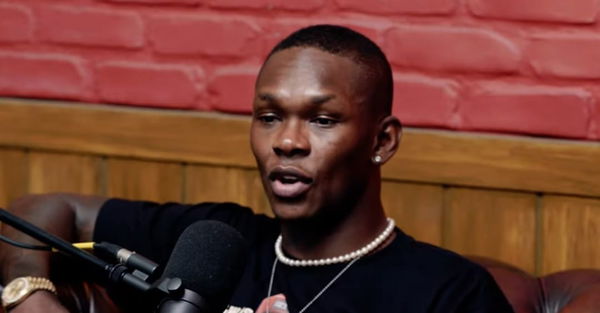 Well, it looks like Hooters is in hot water again. The chain of sports bars and restaurants, known for its controversial display of servers, is shutting down and re-branding after a new study revealed that millennials just aren't that into it. But the real controversy came when former UFC middleweight champion Israel Adesanya weighed in on the situation with a tweet that got everyone talking. What's more? It prompted a reply, even from Kendra Lust.
ADVERTISEMENT
Article continues below this ad
But let's back up for a minute. Why is Hooters rebranding in the first place? Well, it seems that the chain's targeted demographic just isn't interested like they used to be. A study found that millennials are more interested in health and wellness than they are in pretty servers, so Hooters is looking to appeal to a younger, more socially conscious crowd.
But what does this mean for Hooters' iconic uniform? Will the famous orange shorts and tight tank tops be a thing of the past? It's unclear at this point, but one thing is for sure: Hooters will never be the same.
Israel Adesanya has an interesting idea for Hooter's re-branding
The former UFC middleweight champion had something to say about Hooters' recent rebranding. Israel Adesanya took to social media to share his thoughts, and let's just say they're causing quite a stir.
He said, "Idea, hire females with fat a**es then rename it 'Shi**ers'."
The Last Stylebender's tweet on the current topic divided people on whether Adesanya's tweet was hilarious or offensive, but one thing was clear: the former champion knows how to stir up a bit of controversy.
Fans react to Adesanya sharing his take on the Hooter's re-branding
Fans could not believe what they saw when they came across The Last Stylebender's tweet. Moreover, it even prompted Kendra Lust to reply. Here's what they had to say:
Kendra Lust said:
A fan reminds him of his recent title loss:
Do they forget you lost the belt and trust me you will never get it back

— Sanad Abuharb (@SanadAbuharb) December 29, 2022
Whilst one fan was having a laugh,
picturing how funny izzy thought this was while tweeting it is the funny part

— Rémy Celine (@celine_thedream) December 29, 2022
Moreover, some fan wishes they open this in the UK:
I sort of wish we had this in the UK just to show how shallow women can be

— Guitar93 (@Guitar935) December 29, 2022
Some fans had their own idea:
I'd think Poopers would be better. They wouldn't have to change that many letters.

— Jesse Oresnik (@jesseO5) December 29, 2022
Whereas, a fan wasn't happy with it:
Terrible idea. Fellas, support your local hooters …. And give good tips

— Iam5K (@iam5_k) December 29, 2022
One fan suggests he should focus on winning his title back instead:
I think your too worried about Hooters when your focus should be on Poaton, if not Sean Strickland has your number 😂

— ApcyL (@Calysis_) December 29, 2022
Another fan was not happy with Izzy's take:
U really been missing the target on Twitter lately lol

— XRPChad (@xrpchad88) December 29, 2022
A fan thinks Woodley would have a great job there:
Whereas, some fans found it quite funny:
ADVERTISEMENT
Article continues below this ad
However, Adesanya has bigger things to worry about – he's looking to bounce back from his recent title loss to Alex Pereira. This is the third time he's lost to Pereira, so he's got his work cut out for him.
ADVERTISEMENT
Article continues below this ad
Furthermore, if he wants to break Anderson Silva's records, he'll have to get past another Brazilian first. Can he do it? Only time will tell.
Watch This Story–UFC 281: Pereira Stuns Adesanya, Poirier Wins Like a Gladiator at Mike Tyson & Sylvester Stallone Graced MSG
Edited By: Vineet Nandwana