'It Gets Really Really Difficult'- Kamaru Usman Says Entertainment Factor in UFC Makes Things Tough for Him
Published 05/07/2021, 3:13 PM EDT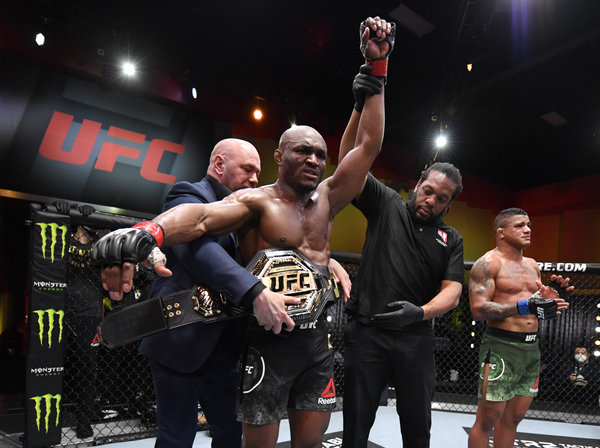 ---
---
UFC Welterweight champion Kamaru Usman recorded one of his finest performances in his latest knockout victory over Jorge 'Gamebred' Masvidal at UFC 261.
ADVERTISEMENT
Article continues below this ad
The win has solidified 'The Nigerian Nightmare' as one of the greatest welterweights to have graced the octagon. But climbing to the top and maintaining that status comes with a price.
In an interview with ESPN's Brett Okamoto, Usman described his journey to the top of one of the toughest weight divisions in UFC.
ADVERTISEMENT
Article continues below this ad
Usman credits UFC vets and coach for guidance through his reign
He said that even though reigning over the welterweight division was his goal when he transitioned from wrestling to training mixed martial arts full time, he never expected the pressure of being a champion to him like it does.
"It's not only about fighting. But it is also about entertainment. To balance the entertainment part with the training, competing and the family life, it gets very, very difficult.
"I didn't think it would be this difficult getting into it. When you're starting up, you're just going 'Yeah I want to be a champion. I want the belt. I want the money that come with it.' You don't actually think about this aspect of it," he said.
He further detailed a discussion that he had with his coach, Trevor Whitman, about the issue. Whitman told him it will only get difficult as time passes.
Usman explained how it is not just the pressure of fighting another dangerous human being but the addition of facing the media to promote the fight that gets to him.
The champion relies on quality advice from veterans like Rashad Evans, Daniel Cormier, Eddie Alvarez, to manage his life at the top better.
"At the end of the day, this is just for a short time. You're going to miss it. I try to indulge myself in this and enjoy as much as possible because this will not last forever," he told Okamoto.
Further, Usman commended the champions and greats of the sport for being able to maintain composure and handle fame when they were on top.
The champ admits his father's presence at UFC 261 made him nervous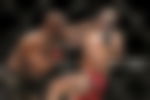 In the interview, Usman also touched upon the experience of having his father physically attending one of his fights for the first time.
The champ admitted that he was feeling sentimental, nervous, with his father present while he fought. He said that he faced similar emotions when his daughter was physically present to see him fight for the first time back at UFC 235.
The fact that he had found a menacing adversary in Masvidal made him even more nervous. Kamaru Usman didn't want to let his father and family down in front of a tough crowd.
ADVERTISEMENT
Article continues below this ad
"But, this is one thing that I think I do well: Snapping out of it and getting back to me. Knowing that if I trust my skills, abilities, then I could go out there and do something special," the champ said.
ADVERTISEMENT
Article continues below this ad
With knocking out the Top-3 contenders put in front of him, what is next for the welterweight kingpin?