'Shove Them Up Your A**'- Eddie Alvarez Mocks Floyd Mayweather and other Boxers
Published 06/02/2021, 7:11 AM EDT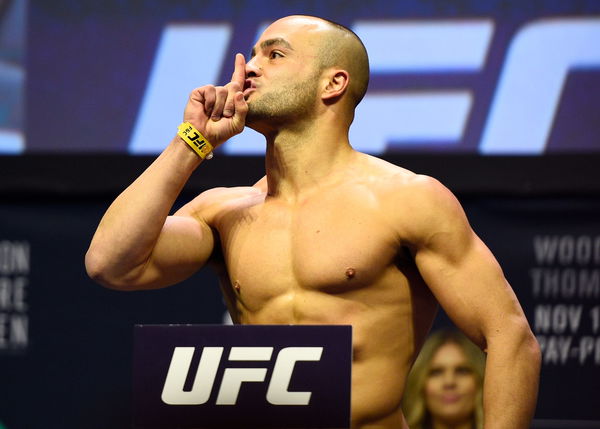 ---
---
As the ever-growing beef between boxers and mixed martial artists continues to rage on social media, Eddie Alvarez, one of the most decorated MMA fighters, becomes the most recent to pitch in. Taking to Twitter, 'the Underground King' boasted off the superiority of the combat athletes involved in fighting in the cage to those competing in the squared circle.
ADVERTISEMENT
Article continues below this ad
The debate has been raging on forever it seems, and with cross-sport bouts getting fixed left, right, and center these days, it is even more relevant.
We fight in rings ,cages ,circles and mats … Anywhere is just fine for us …. But We Really Fight !!! If you let 10 boxers out in a cell and 10 mma fighters Whose gonna live and whose gonna Die … Case closed . Take your gloves and shoes and shove them Up Your Ass !! pic.twitter.com/I4ZDZDUOAM

— Eddie Alvarez (@Ealvarezfight) June 1, 2021
ADVERTISEMENT
Article continues below this ad
Eddie Alvarez and his take on the debate
Eddie Alvarez said what he did because of his training in multiple disciplines; MMA fighters are more equipped to deal with physical threats in a practical situation. If a situation comes up, a cage-fighter will have multiple ways to neutralize a boxer. This has been the common sentiment within the MMA community.
Alvarez's tweet perfectly encapsulated this sentiment. This line of thought can also be seen in the verbal assault that Ben Askren launched against Jake Paul in their pre-fight presser. "Jake, if you and I ran into each other in a back alley in Las Vegas and I wanted to do a homicide... I would do a homicide on you if I wanted to," the veteran MMA fighter said.
Alvarez's argument comes from the fact that no prominent boxer, except for Claressa Shields, has ever entered a cage. It has always been the other way around. Boxing fights pay considerably better than MMA fights. This money has always eluded MMA fighters who might want to jump ship and consider fighting with 16-ounce gloves.
ADVERTISEMENT
Article continues below this ad
The cultural phenomenon that was McGregor vs Mayweather has put such cross-sport bouts on the map. The latest of such cross-sport fights are Anderson Silva taking on Julio Cesar Chavez Jr. Further, Jake Paul would take on former UFC welterweight champion Tyron Woodley in a boxing bout.
Eddie 'The Underground King' Alvarez is one of the most decorated fighters in the mixed martial arts circuit. He has been dominant across multiple promotions, serving as the lightweight champion for Bellator and UFC. Alvarez is now on the quest to secure gold for the third time in his career as an ONEFC fighter. One of the most violent fighters, Alvarez's hot take on the issue will ruffle some feathers.
ADVERTISEMENT
Article continues below this ad