UFC Commentator Joe Rogan Snubbed Conor McGregor for Jon Jones for Delivering the 'Greatest' Press Conference Quote Ever
Published 01/16/2023, 11:30 AM EST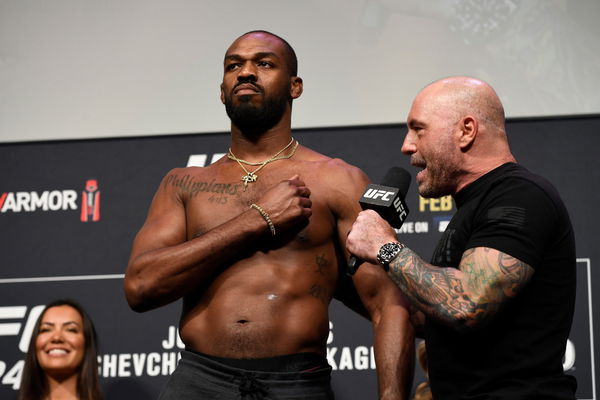 Joe Rogan has become an integral part of the UFC package, that fans can never get enough of. Luckily, MMA fans have a place to go to hear his take on the latest MMA match-up or tales of iconic old fighters. Or even some incidents that would leave the listeners in splits. The Veteran UFC commentator talks about all these and many more on his popular Spotify show, The Joe Rogan Experience. In a recent episode, Rogan recalled an iconic line delivered from the interview booth of a press conference. There are so many ones that fans could never forget, such as Conor McGregor's infamous red p*nty night shenanigan. However, Rogan spoke about a tense exchange between one of the MMA greats, Jon Jones, and his rival, Daniel Cormier.
Joe Rogan heralded Jon Jones for his swift reply at a press conference
In episode 1920 of JRE, Joe Rogan recalls Bones' iconic line to DC and claimed it to be one of the greatest quotes in press conferences. Rogan believed that one should abstain from their vices ahead of a fight to be an elite-level fighter. But Jones, contrarily, showed no discipline and maintained his top form as he was naturally gifted.
ADVERTISEMENT
Article continues below this ad
Rogan said "Look, if you're training for a fight, Don't drink (alcohol). Don't do coke…"
"But meanwhile, Jon Jones did… one of the greatest of all time."
And shared an iconic Jones quote about Daniel Cormier along the same lines. Rogan recalled "One of the greatest f*cking quotes ever when he was, in the press conference with Daniel Cormier after their first fight he goes 'I beat you when I was doing coke.' (Laughs)"
The UFC earned a majority of its viewers through press conferences, which let fighters interact with demanding journalists ahead of their match-ups. However, the former light heavyweight champion gave them a lot more than what they asked for in an old press conference.
Only 'Bones' could get away with that response
Despite his addiction, Jones proved his mettle against countless opponents. Rogan also confirmed that elite fighters need to abstain from parties, as it adversely impacts their body. Because "At the elite levels, everything has to be on point."
ADVERTISEMENT
Article continues below this ad
 

View this post on Instagram

 
But, Jones' attitude to confess his addiction made that quote one of the best UFC quotes according to the UFC commentator. Placing it alongside some of UFC's iconic pressers, such as Conor McGregor's famous trash-talking ventures.
ADVERTISEMENT
Article continues below this ad
WATCH THIS STORY: Joe Rogan gets fooled by father-son boxing video
What are your favorite MMA quotes?
Edited By: Debmallya Chakraborty