UFC Star Sean Strickland Extends Insane $200,000 Fight Challenge to "Phony & Fraud" Self-Proclaimed Defense Instructor Dale Brown After Viral Scuffle
Published 01/24/2023, 1:47 AM EST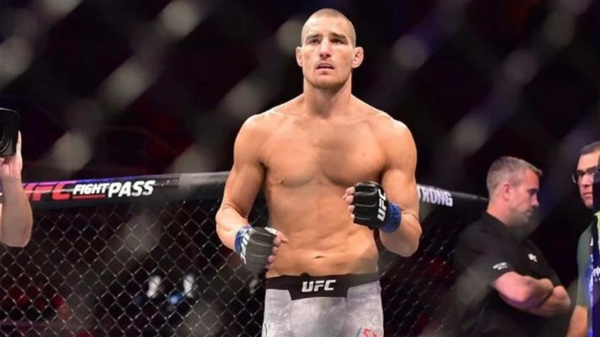 Challenging a professional MMA fighter to one-on-one combat is never a wise decision. However, not everyone possesses the common sense to avoid such a dangerous situation. Recently, Dale Brown from Detroit Urban Survival Training did not think twice before challenging Sean Strickland, a UFC middleweight fighter. To make matters worse, Strickland accepted the challenge. This comes after Sean Strickland recently won his last fight against Nassourdine Imavov at UFC Vegas 67. What's more, he even came in as a last-minute replacement for Kelvin Gastelum, who had sustained a severe facial injury. Despite the short notice, Strickland emerged victorious and earned a substantial purse for his efforts.
It's clear that Strickland is not a UFC fighter to be trifled with. He demonstrated his skill and determination by winning a professional fight on short notice.
Sean Strickland accepts the challenge from Dale Brown in a desert showdown
ADVERTISEMENT
Article continues below this ad
It all started when Sean Strickland, a professional MMA fighter, met Dale Brown, the founder of the controversial Detroit Urban Survival Training group, at a gun shop. Brown's training methods have often been mocked on social media. Strickland wanted to see what the fuss was all about. However, during the encounter, Brown grabbed Strickland's arm causing the former to accidentally tripped over a table. Since the incident, Brown has called out Strickland to spar in the desert.
 

View this post on Instagram

 
In response, Strickland offered a bold challenge. He said, "You said you would meet me in the desert, I will make you a deal. Next week, the following week or whenever you're free I will buy your plane ticket, I will put you in whatever hotel you want."
"I will go take $200,000 in cash and I will put it in the sand and you can have that money and all you got to do is beat me." This shows Strickland's confidence in his abilities as a professional MMA fighter and his willingness to put his money where his mouth is.
It's clear that Strickland is not intimidated by Brown or his training methods. He is willing to back up his words with action and is confident in his ability to emerge victorious. Whether Brown accepts the challenge remains to be seen. However, one thing is for sure, Strickland is a force to be reckoned with in the MMA world.
ADVERTISEMENT
Article continues below this ad
Strickland calls Dale Brown a phony and a fraud
As the tension between Sean Strickland and Dale Brown continues to escalate, Strickland has called out Brown as a "phony" and "con artist". In a bold statement, he challenged Brown to prove his legitimacy by accepting his offer of a desert showdown, complete with a plane ticket, hotel accommodations, and $200,000 on the ground for the winner.
ADVERTISEMENT
Article continues below this ad
He said, "The thing is dude, you're a fraud. You're a phoney, you're a con artist. You know you are, I know you are, and if you want to man up and show the world that maybe you're legitimate."
Watch This Story: Top 5 Biggest Rivalries In The History Of UFC