Valentina Shevchenko, Israel Adesanya, UFC Noche: Dana White Breaks Silence Amid Recent UFC Controversies in Latest Press Conference
Published 09/20/2023, 3:16 PM EDT

Follow Us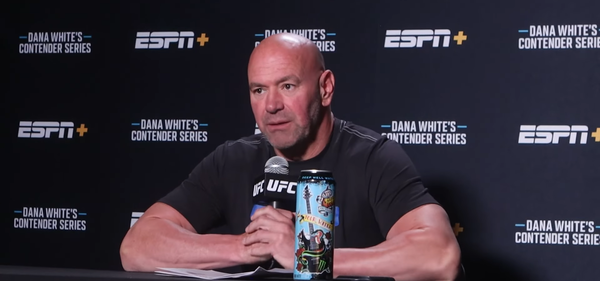 In a recent press conference, Dana White touched upon every major storyline emerging from the MMA world. The UFC president answers about the hot prospects emerging out of the Contender Series and the controversy surrounding the Alexa Grasso vs. Valentina Shevchenko fight.
America's Favorite Video Today
Besides, he reveals the fighters that made him feel special and raises the mistake of Mike Bell. The UFC head honcho also discusses Israel Adesanya's immediate rematch. All this and much more was talked about when he talked with the media in the post-event presser.
Dana White talks Raul Rosas Jr., WWE-UFC deal, Valentina Shevchenko controversy & challenges Canelo Alvarez
ADVERTISEMENT
Article continues below this ad
Podcast Breakdown

20 Unique Takes

---

"Looked Incredible"- Dana White makes a case for "big HW" star in Contender Series

"Everybody's unique"- UFC CEO Dana White drops the truth bomb on new UFC contract receivers

"These guys know…"- Amid Raul Rosas Jr.'s rise, Dana White heaps praise on UFC matchmakers

"Complete domination"- Dana White takes a jibe at Mike Bell after controversial Noche UFC decision


"I was worried"- Dana White discloses his plans for Contender Series in the future

"These guys should be f*cking investigated"- Dana White launches an attack on Mike Bell days after Noche UFC


"They have to do the rematch"- Dana White discloses a massive plan for Valentina Shevchenko


Dana White talks about the "incredible success" of Noche UFC on Mexican Independence Day


"Israel was willing to…"- Weeks after a devastating loss, Israel Adesanya gets a massive update from Dana White with a rematch in question.

"You just don't"- Dana White breaks silence on judges giving interview post-fight

"I will go that day"- Dana White challenges Canelo Alvarez for massive showoff amid huge success at UFC Noche


"This thing is still…"- Dana White drops the truth bomb on new rules in the sport of MMA

"absolutely incredible"- Raul Rosas Jr.'s groundbreaking achievement lauded by UFC CEO Dana White

"We're comfortable"- Dana White provides a massive update on Valentina Shevchenko's injury

"We'll get bigger"- Amid huge Noche UFC achievement, Dana White makes a promise for the future

"He fought like 4 days later"- Dana White shares inspiring Daniel Cormier story that Contender Series fighters can adopt


"that's not true"- Dana White shuts down rumors of new UFC ventures amid Noche UFC success

"look at Vitor Belfort"- Dana White confesses to huge talent in the sport of MMA

"first time i ever…"- Conor McGregor, Ronda Rousey, and Sean O'Malley names of the fighters that made Dana White feel special


"Now We're in f*cking Ireland"- Dana White talks about UFC's return to Conor McGregor's hometown
Watch the full podcast here:
As the UFC action goes underway at UFC Apex before it moves to Abu Dhabi in October, multiple plots keep on emerging. Raul Rosas Jr. returns to winning ways. The UFC top brass mulls over whether to arrange a trilogy between Grasso and Shevchenko. Exciting times are ahead as the TKO Group era begins.
Watch This Story: Jorge Masvidal Wins the Race Against Mike Tyson, Arnold Schwarzenegger, and Triple H to Become Dwayne Johnson's Successor at UFC 291 for the BMF Title
Edited by: