Why Was Florence Griffith Joyner's Insane 10.54-second 100-Meter Run Not Counted as an Olympic Record?
Published 12/23/2021, 8:30 AM EST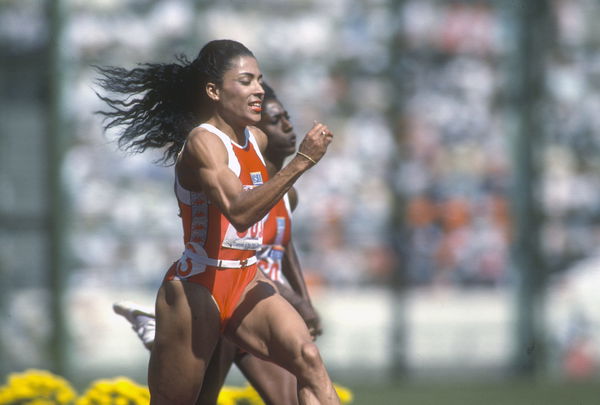 ---
---
The 100-meters world record set by Florence Griffith Joyner back in 1988 is untouchable to date. Ever since she created that record, many athletes have looked to conquer it. No one has come close until Elaine Thompson-Herah came into the picture. Although she did not break the world record, she managed to break the 100-meters Olympic record.
ADVERTISEMENT
Article continues below this ad
However, there are many doubts that people have about Flo-Jo's record. The time she finished in the 1988 Seoul Olympics was 9.54. Why was the Olympic record 9.62 instead?
ADVERTISEMENT
Article continues below this ad
Florence Griffith Joyner could not set the Olympic record
Before the Seoul Olympics started, the US trials saw her setting a new world record for the 100-meters competition. She set a time of 10.49 on a breezy day in Indianapolis. However, the record stood, even though, there was a breeze. The rules for athletics suggest a sprinter's time cannot be recorded if the average wind velocity exceeds over two meters per second.
Thus, after setting a time of 9.54, the strong breeze in Seoul canceled her record.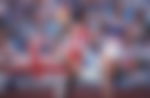 Moreover, there were also doubts regarding the world record she set back in the US trials. Fans who attended that day noticed winds, despite, the wind meter showing otherwise. Many suggestions of the wind meter being broken were taken into account. Winds blowing from the back gives a significant advantage to the sprinter causing them to leap forward and sprint faster.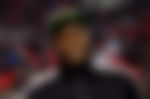 Hence, Thompson-Herah did not have the aid of wind as she sprinted her heart out during the Tokyo Olympics 2020 setting a time of 10.61. This is officially the new Olympic record.
Tyson Gay's fury
A similar incident happened back in 2008. When Tyson Gay arrived in the picture, he was one of the best sprinters in the world. Despite his marvelous running style, he went on an incredible sprint during the US trials to set a time of 10.68 shattering the world record, during that time.
ADVERTISEMENT
Article continues below this ad
However, with winds over 4 meters per second, the record got canceled as Gay could not set the world record.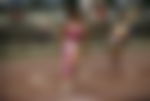 Thus, the factor of the wind is important while sprinting. Florence Griffith Joyner ran the sprint of her life back in the 1988 Seoul Olympics.
ADVERTISEMENT
Article continues below this ad
WATCH THIS STORY- Usain Bolt's Greatest Investments
The winds may have come to her aid according to some detractors, but she ran the race of her life back then.