WATCH: Allyson Felix Does Thanksigiving Trot With Daughter Camryn
Published 11/26/2021, 8:11 AM EST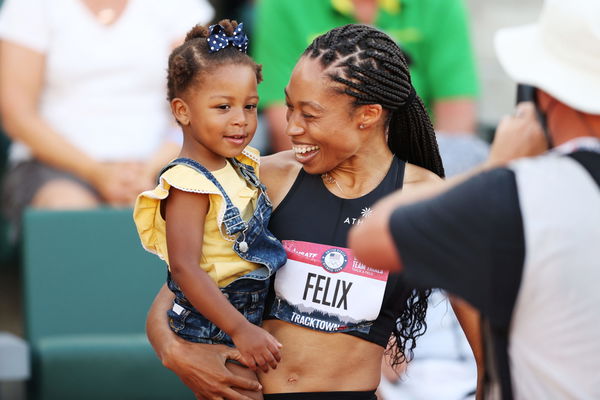 Just like people celebrate Christmas with Christmas trees, Thanksgiving sees people taking part in Turkey trot. It involves running for long distances and it is a feature on this day. Significantly, in the USA, turkey trots get held in certified tracks which are used for track and field competitions. Some competitions include 5K and half-marathon competitions which have a distance of 13.1 miles. Hence, Allyson Felix did a Turkey trot with her daughter, Camryn, for Thanksgiving.
Allyson Felix runs with her daughter
ADVERTISEMENT
Article continues below this ad
In an Instagram story, Felix ran with her daughter on Thanksgiving as little Camryn followed her mother in a hilarious video. Like everyone, Felix ran with her daughter to spend her Thanksgiving in the most beautiful way possible. Although it features people wearing turkey costumes, Felix posted a video of her daughter trying to catch up with her.
People celebrate the event in the perfect way possible. The oldest known Turkey trot happens in Buffalo, New York that dates back to 1896. Moreover, the pandemic caused the event to be canceled in 2020 as it returns this year. After a gloomy year, the world is getting back to normal as people are celebrating the events. Thus, Felix made it a point to celebrate this year's celebration with her cherished possession.
WATCH THIS STORY- Things Only Mike Tyson, Floyd Mayweather, and Others Do at Thanksgiving
Camryn gets Felix motivated
ADVERTISEMENT
Article continues below this ad
After winning more medals at the recent Tokyo Olympics, the journey to the top was not a straightforward task. Giving birth to her daughter became the most beautiful moment in her life. However, there were doubts whether it would affect her career. But, accepting the challenges ahead, Felix embraced hard work to create history in Japan. In spite of all the uncertainties, Felix put a test to her mettle as she achieved her dreams.
"There have been so many women before me who had to stay silent about their fight. And so for me to be able to step out and I think my daughter gave me the courage to do that. But I think that was really the thing, that this has been going on for far too long. And I hope that we're really changing things," said Felix.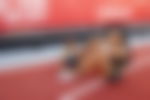 With the traditional Turkey trot a major event in the USA, Allyson Felix, and her daughter shared an exceptional moment as she follows her mother during the Turkey trot. Judging by the looks of it, can she become a better athlete than her mother?
ADVERTISEMENT
Article continues below this ad