"The Saddest Photo of the 2022 Olympics": Fans Heartbroken to Watch 17-Year-Old Gold Medalist Left Ignored Post Victory at Beijing Winter Olympics 2022
Published 02/18/2022, 12:33 PM EST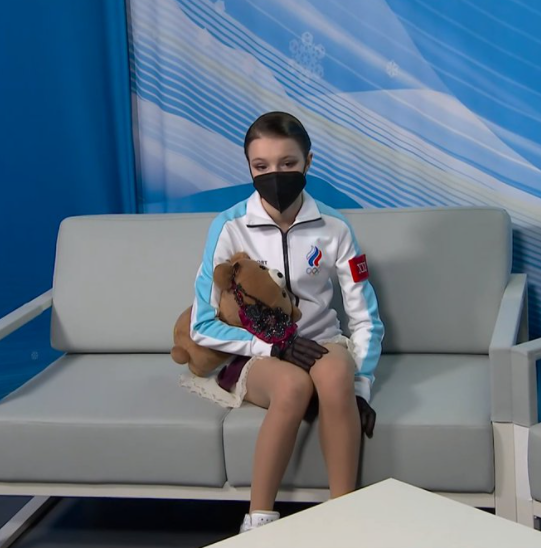 The controversies surrounding Kamila Valieva have only increased since her last performance. Despite testing positive for using a banned substance in December last year, she took part in the Beijing Winter Olympics 2022. Many fans and athletes caused an uproar over the decision of the IOC.
ADVERTISEMENT
Article continues below this ad
Another story to develop from Beijing is that of the Russian coach, Eteri Tutberidze, who appeared to lash out at her Olympians. Her insensitive reaction also caused massive outrage over social media.
ADVERTISEMENT
Article continues below this ad
Notably, Russian figure skaters Anna Shcherbakova and Alexandra Trusova took home the gold and silver medal, respectively. But in an event marred with controversy, Russia's gold medalist was apparently left alone to celebrate her victory, in a moment that has broken hearts over the internet.
Russian skater left alone at Beijing Winter Olympics
When silver medalist Alexandra Trusova burst into tears at not being able to win the gold medal, many attempted to console her. However, in the bargain, gold medalist Shcherbakova was ignored and so was her triumphant achievement.
In what is being termed as heartbreaking visuals, she held onto a soft toy, sitting idle in her thoughts. With no bliss, relief, or joy on her face, fans reacted to her picture on Twitter, highlighting the mental health of athletes.
This is hands-down the saddest photo of the 2022 Olympics. Anna Shcherbakova (only 17-years-old) wins gold at the #OlympicGames and is left alone by her coaches, including Eteri Tutberidze, because of the catastrophe happening around her… So heartbreaking. #FigureSkating https://t.co/NU7TmA1FCF

— Kendall Smith (@SmithKendall__) February 17, 2022
This will be the indelible image of the Beijing Olympics for me. Victory, but at what cost? The emotional well-being of minors callously disregarded. Why the hell are we even doing this sport if this is what a golden moment looks like? I am in tears tonight for figure skating. pic.twitter.com/RxGKSJoYau

— Chris Schleicher (@cschleichsrun) February 17, 2022
Anna Scherbakova standing ALONE clutching a plush toy after she won the Olympic gold medal, with no one to celebrate with or to guide her, her coaches nowhere to be found, tells you everything you need to know about how Eteri treats her skaters. #Beijing2022 #FigureSkating

— Tim Silver-Bonito  (@timsilver212) February 17, 2022
And here's who she was "defeated" by: her teammate, Anna Scherbakova, seen here celebrating her Olympic gold medal… or perhaps just sitting there alone watching her team detonate all around her. pic.twitter.com/iTjA2P58zD

— Aaron Allermann (@aallermann) February 17, 2022
sorry for all the skate posting this is all just inSANE?? anna scherbakova winning alone, sasha trusova screaming at everyone, kamila falling, kaori just trying to have a normal one, and then of course a bigger percentage of my brain than usual dedicated just to hating eteri

— off-brand djungleskög (@lenu_greco) February 17, 2022
It has left a sour taste for everyone involved in the sport as the gold medalist sat there disappointed. In the meantime, silver medalist, Trusova, mentioned how she did not want to skate again, showing her frustration with her coaches and everyone involved.
"Everyone has a gold medal, everyone, but not me. I hate skating. I hate it. I hate this sport. I will never skate again. Never. It's impossible. That's not how it should be," said Trusova.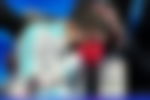 Valieva's controversy
Apart from that, Russia's Kamila Valieva slipped during her performance. She returned to the stands, crying, and could not handle her emotions. Just then, her coach Eteri Tutberidze scolded her, instead of comforting and encouraging the young star, who had already had a tough couple of weeks owing to the controversy surrounding her participation. Significantly, IOC president, Thomas Bach, could not believe what happened and sat there in shock.
"I was very, very disturbed when I watched the competition. I know from my time as an athlete a little bit about pressure, but this pressure is beyond my imagination. In particular for a girl of 15 years old," said Bach.
Watching Anna Scherbakova win gold only to sit all alone in the box with no support was just heartbreaking. That was hard to watch. pic.twitter.com/wpPxtbvF1Y

— Michela Dee Stallion 🖤🦅 (@micheladlondon) February 18, 2022
I feel so bad for Anna Scherbakova. She wins gold and is just all alone.

— April Glick Pulito (@aprilglick) February 18, 2022
ADVERTISEMENT
Article continues below this ad
I feel the worst for Anna Scherbakova who was totally alone after winning a gold medal.

— Terri Dean (@tldino) February 18, 2022
ADVERTISEMENT
Article continues below this ad
The event truly has been a mess in several ways. And if anything, the Russian gold medalist sitting in disdain provided a picture of the mood in the camp right now. Certainly, we hope the Russian authorities take notice of this and further take appropriate measures to protect its athletes and their mental well-being.
WATCH THIS STORY- US Olympic Gold Medalist Chloe Kim tried to Sabotage TV Actor Mark Wahlberg- Heres the Full Story