362Lbs Strongman Eddie Hall Trains Like a Bodybuilder for Mr. Olympia
Published 01/28/2023, 5:00 PM EST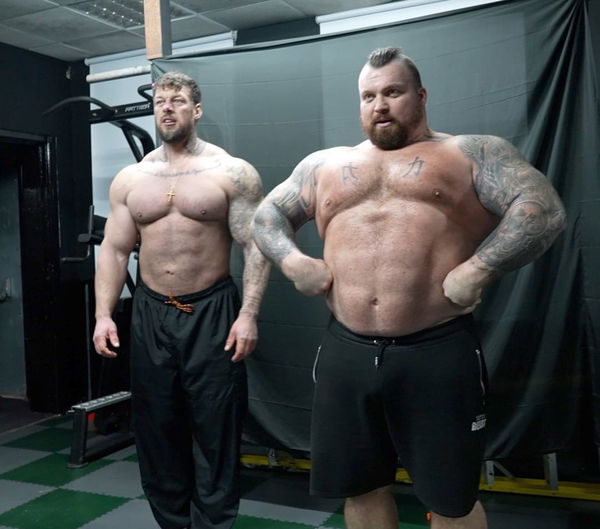 One of the finest Strongman athletes ever, Edward Hall has decided to transform. Not just his physique, but he has begun to transform his career into a completely new sport. Although one might think strongman and bodybuilding may have similarities, that's far from the truth. A strongman is more about fathomless strength, whereas bodybuilding is more about the art to carve your body. Now, the 2017 World's Strongest Man Eddie Hall has begun his Mr. Olympia prep recently.
Hall recently shared a Facebook video where he wrote, "Putting in the work for Mr. Olympia." The journey would be amazing but challenging at the same time. Let us have a look at the training session of Eddie Hall with Jamie Christian-Johal.
From the world's strongest man to competing for the world's biggest bodybuilding title
ADVERTISEMENT
Article continues below this ad
Edward Hall has accomplished several incredible feats in his career. He has been UK's and England's Strongest Man multiple times. Moreover, he won the 2017 World's Strongest Man title as well. And after getting all that, he is now looking to challenge some of the best bodybuilders. He has recently begun his journey towards that with 'The Giant', Jamie Christian-Johal.
In the video, Hall said, "This is world's strongest man trying bodybuilding." Hall was witnessed training his back with The Giant in the video. While training him, Jamie told, "You can move weight for days, but now you have got to control it." And that is where the two sports differ.
Now, Hall has to be more precise in his workout movements and train every single muscle of his body. However, while enjoying the session, Hall once humorously said, "C-Bum… E-Bum's here", although they won't be competing in the same category.
On the other hand, Jamie kept challenging 'The Beast' and let him know the challenges which lie ahead. They did multiple back workouts, and it was the repetitions that challenged Hall the most. Other than that, let's have a peek at what else the duo of The Beast and The Giant did during their session?
The basic introduction to the most important part
Posing is one of the most crucial art one has to master if they have to conquer the title. The maestro of posing being Arnold Schwarzenegger, Frank Zane and many more. In the video, after finishing the workout session, Jamie was seen passing on the basic posing movements to the Giant, who was completely unaware of it.
ADVERTISEMENT
Article continues below this ad
 

View this post on Instagram

 
Even though he didn't know it in the beginning, he learnt some basic posing to enhance how his back muscles were shaped. However, as it was just the beginning, Jamie only told him some flexes, which only included the poses to display Eddie's back. Eddie once again jokingly said, "I will be in bodybuilding in two weeks now. I think I am already on the level now."
ADVERTISEMENT
Article continues below this ad
Watch This Story: Most Underrated Exercises for Muscle Growth According to Famous YouTube Bodybuilding Vlogger
Eddie Hall has taken a big step by walking into the bodybuilding arena. But he is pretty determined to put in everything to compete in Mr. Olympia. Only time will tell how this will end up. However, what is your opinion on Hall's decision to compete in Mr. Olympia? Let us know in the comments section.