6 ft. Tall, Shredded Bodybuilding Beast, Sergio Oliva Jr., Dwarfed by a Bellman in the UAE: "I Felt a Tap on My Shoulder and.."
Published 12/30/2022, 7:00 AM EST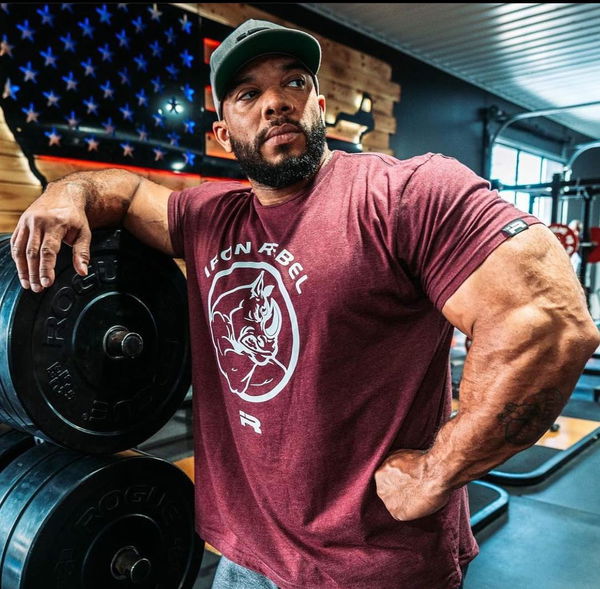 Generally, a pro bodybuilder is not habitual of seeing someone grander than them. But the son of 3x Mr. Olympia Sergio Oliva, a pro-bodybuilder, Sergio Oliva Jr., experienced something that surprised him. He met someone who was way taller and was not at all expecting this. The incident took place when the bodybuilding beast checked in at Emirates Palace in Abu Dhabi, UAE. And to the extent of his surprise when he looked at that bellman, he couldn't stop from sharing the picture with him on his Instagram handle.
What did Sergio Oliva Jr. say after encountering the giant bellman in the UAE? Moreover, how did his followers react to this encounter? Let us find out more about it in this article.
The bodybuilding beast Sergio Oliva Jr. felt dwarfed
ADVERTISEMENT
Article continues below this ad
Sergio Oliva Jr. has worked out almost his whole life to become a beast of a bodybuilder. He is 6′ tall and weighs 255 lbs. But when he encountered the bellman in Abu Dhabi, he was astounded and couldn't help but feel dwarfed.
 

View this post on Instagram

 
Oliva Jr. didn't miss out on the rare incident where he looked tiny before someone and clicked a stunning picture with the bellman. The bodybuilding giant uploaded the picture and captioned, "The hotel asked me if I needed help with my bags and I said no thanks I got it. Then I felt a tap on my shoulder and this was the bellman. 🏨"
Going forward let us take a glance at how the fans and followers of Sergio Oliva Jr. reacted to this rare picture.
ADVERTISEMENT
Article continues below this ad
The fans and followers seemed awestruck by the image 
The fans and followers of Sergio Oliva Jr. loved this unique picture where the bodybuilding beast looked little. However, as much as they were impressed with the massive arms of Oliva Jr., they couldn't ignore the bellman's massive stature. Seeing that giant body, the followers made some interesting and hilarious observations and commented on them. Let's have a look at a few of them.
One of the fans couldn't stop himself from asking, "Bellman or Bell tower!? 😳." Whereas the other compared the two with two legendary WWE wrestlers and wrote, "Hulk Hogan vs Andre the Giant." And eventually, some of them made the funniest comparisons with their specific body parts. One wrote, "His ears are bigger than your head 😦," while the other wrote, "Bro, his fist is bigger than your head!" Moreover, one of the followers even called them unreal. He wrote, "Two people that don't look real !!!😃"
ADVERTISEMENT
Article continues below this ad
Watch This Story: From Ronnie Coleman's Dominance to Arnold Schwarzenegger's 1980 Comeback- Here Are the Top Bodybuilding Moments
What do you think about this incredible picture uploaded by Sergio Oliva Jr.? Moreover, do you observe something unusual and unreal in this picture? If yes, let us know in the comments section.
Edited By: Simar Singh Wadhwa