6'1" Ft Jacked Slovak Bodybuilder Turns Heads With His Debut At Mr. Olympia 2022
Published 12/17/2022, 10:15 AM EST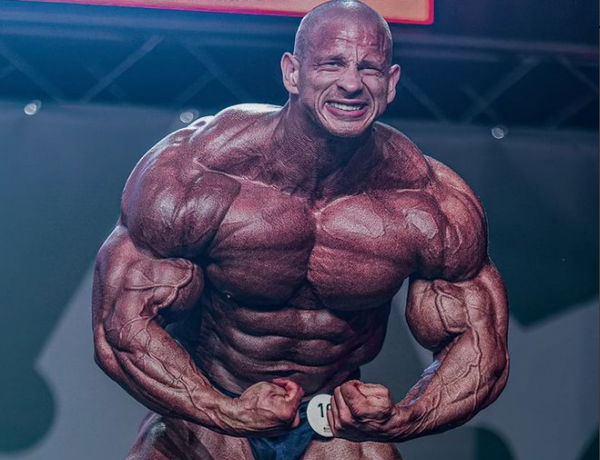 IFBB professional Michal "Krizo" Krizanek stunned the bodybuilding world when he qualified for Mr. Olympia 2022. Krizo qualified for the premier bodybuilding contest at the last moment after winning the Prague Pro in October. Experts predicted that Michal Krizo could shake up the competition with his monstrous physique and even threaten Big Ramy.
Krizo carried a lot of hype with him as he walked on the Mr. Olympia stage. Fans and experts awaited the Slovak bodybuilder to show off his physique on the world stage. So how did the 6'1 Ft beast do? 
ADVERTISEMENT
Article continues below this ad
Did Michal Krizo live up to the expectations?
Everyone was excited as the debutant stepped on the stage. The 6'1″, 290-lb bodybuilding beast brought insane muscularity on stage. During his posing routine, Krizo hit all the mandatory poses. However, he turned heads with his front-double biceps, lat-spread, and especially the most muscular pose. Many have criticized Krizo for lack of back development, but the bodybuilder seemed to have added more width to his back. 
Four-time Mr. Olympia Jay Cutler met Krizo shortly before he competed in the Prague Pro. Cutler had correctly predicted Kirzo to win the show. The former Mr. Olympia also said Krizo would cause some "damage" if he competed in Mr. Olympia. While Krizo didn't make the first call out, he was among the athletes who made the second call out.
To secure a position in the top ten on his Mr. Olympia debut would be quite an achievement. However, the Prague Pro winner had some stiff competition. Besides Michal, 2019 Mr. Olympia runner-up William Bonac, Iain Valliere, and newcomer Andrew Jacked also made the 2nd call-out. It'll be interesting to see how Krizo ranks. 
Why Krizanek didn't make the first call-out
No one knows how the judges scored the pre-judging event. Cutler had said that Krizo's back didn't look that bad in person. However, Krizo could've lost points if judges felt his back was underdeveloped compared to other body parts.
ADVERTISEMENT
Article continues below this ad
 

View this post on Instagram

 
Another factor could be the tough competition led by bodybuilders like Nick Walker, Hadi Choopan, Big Ramy, and others made to their physiques. Among the newcomers, Samson Dauda made it to the first call-out.
ADVERTISEMENT
Article continues below this ad
Watch This Story | Liver King's 12k steroids revealed, bodybuilding world reacts
While Krizo might not crack the top five this year, Michal impressed fans with muscularity and size. Do you think Krizo lived up to the expectations?
Edited By: Jahnabi Choudhury