"How Tf Did He Beat Nick Walker": Mutant Fans Cry Foul Play as Samson Dauda Wins Arnold Classic 2023
Published 03/04/2023, 11:34 PM EST

Follow Us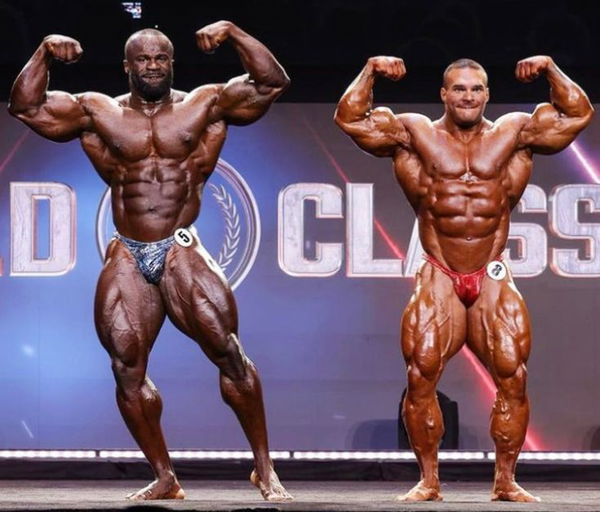 The most-awaited results of the Men's Open category at the Arnold Classic 2023 are out. The Nigerian beast, Samson Dauda, claimed this year's trophy and made it to the headlines. Nevertheless, after pre-judging on March 3rd, it appeared to many that Nick Walker and Andrew Jacked were leading the race toward victory. While some were pinning for the Mutant, others were expecting that the triumph will go in Jacked's bag. However, it was Samson Dauda who stood atop the podium that caused a stir in the bodybuilding fraternity.
The Mutant, Andrew Jacked, Samson Dauda, and Big Ramy were hailed on the stage in the final call-outs. While Chinedu Andrew and Ramy were declared as the 2nd and 3rd runner-ups, Dauda and Walker filled the first two spots. While many are singing praises for the number one, many expressed their disregard for the results. The social media cult does not seem happy with the Arnold Classic's final decree.
Nick Walker's fandom expressed their disappointment with the Men's Open results
ADVERTISEMENT
Article continues below this ad
Soon after Samson Duada received the reverent title of the Arnold Classic 2023, the official Instagram handle of Mr. Olympia hailed the champion by posting his tanned body and ripped physique picture from the event. Captioning the post, Mr. Olympia's page penned, "Congratulations @samson_dauda on winning the 2023 @arnoldsports !"
Following this, many fans flocked to the comment section to express their discontent. Netizens penned…
"How tf did he beat Nick Walker"
"That was a robbery, who deserved it was nick walker"
 

View this post on Instagram

 
"No hate by any means but I don't see the hype around Samson. I'd have Nick at 1 and Andrew at 2"
"I'm not sure about this one, nick was def better"
ADVERTISEMENT
Article continues below this ad
Backing up Dauda's momentous victory, one of Dauda's fans had an incredible insight that gives one a great lens to look at the results. They wrote, "Nick had the most mass. Andrew had the most aesthetics. Samson didn't lead in any category but he was the best balance of size conditioning and aesthetics"
Most of Dauda's fans had similar views that hint at Dauda's physique as a recall of the aesthetics that ruled the golden days of bodybuilding. One fan wrote, "I think it was a good call it's time to bring back more of the small waist"
ADVERTISEMENT
Article continues below this ad
The Nigerian received $300,000 prize money and the Arnold Classic trophy from none other than Arnold Schwarzenegger himself. The Austrian applauded Dauda while the Men's Open winner hoisted the trophy high. What is your perspective on the final judgment round? Tell us in the comment section below.
Watch this story | Here's everything you want to know about the $206,500 salary of legend Arnold Schwarzenegger
Edited By: Jahnabi Choudhury