"Jay Got Robbed": Controversial 2001 Mr. Olympia Results Between Ronnie Coleman and Jay Cutler Carves Out Bodybuilding World in Two Halves
Published 03/17/2023, 6:30 AM EDT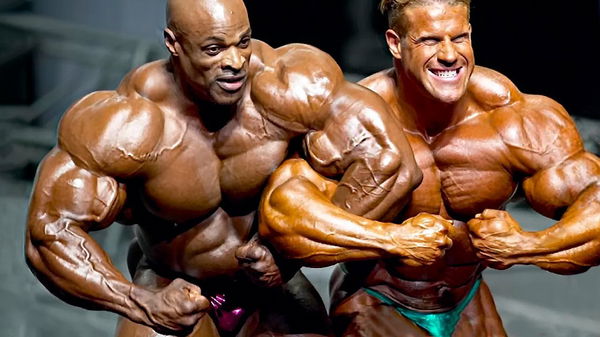 The decade of the 2000s began with a controversial result in Mr. Olympia's history when Ronnie Coleman won his fourth Mr. Olympia title in 2001. The bodybuilding world got divided into multiple opinions, where one half supported Coleman's win, whereas the other claimed that Jay Cutler deserved the title. Fast forward to 2023, and the debate still continues with the same heat as it was 21 years ago.
When Mr. Olympia's official Instagram page recently shared a throwback video of Mr. Olympia in 2001. Bodybuilding fans got divided into two opinions. In this article, let us look at the fans' comments in favor of both the legends of the sport.
The controversial result of Mr. Olympia 2001
ADVERTISEMENT
Article continues below this ad
8x Mr. Olympia Ronnie Coleman won his fourth consecutive title in 2001. Whereas on the other hand, Jay Cutler was a rising name at that time. 2001 was the beginning of one of the biggest rivalries in bodybuilding history. However, the competition's result had numerous question marks on it. Many people and former bodybuilders claimed that Jay Cutler looked better than The King.
 

View this post on Instagram

 
Even Mr. Olympia's promoter once revealed some hints about the decision being unfair. Moreover, other than the decision, Cutler was also blamed for doping and had a big fight against it in the court, where he eventually won and retained his runners-up spot.
Nevertheless, what happened in 2001 never became clear, and there is no certain answer to that. But one thing is pretty clear, it gave birth to a masterclass of rivalry. The Coleman-Cutler rivalry. The rivalry that gave bodybuilding its new heights and probably the best times. However, Cutler eventually got the better of Coleman in 2006, but Coleman defeated him several times before that. Now, as Mr. Olympia's official page dug up the 2001 final, let us have a look at the fans yet again proposing their contrasting insights on that final.
The bodybuilding fans reacted to the controversial 2001 result
The legendary rivalries never get old. Whether it is of Arnold-Ferrigno, Coleman-Cutler, or Heath-Greene. Their tremendous face-offs are ingrained in the minds of every bodybuilding fan. These rivalries are the reason the sport has been loved worldwide. Looking at the bodybuilding world getting divided after seeing the post, let us take a look at a few comments.
 

View this post on Instagram

 
After seeing the post Ronnie's fans jumped in and wrote,
"RC all day long. Don't get me wrong Jay was a beast but RC is a legend"
"Once Ronnie spreads his wings it's nothing short of surreal"
"No way anyone can beat Ronnie"
While Cutler's fans did not remain behind and commented,
We all respect ronnie the king, but if that was judged today in 2023 jay would win."
ADVERTISEMENT
Article continues below this ad
"To me looks like Jay should've won, the overall more complete, IMHO"
"Jay got robbed, and deep down ppl know if ronnie wasn't who he was this was Jay's title any day of the week"
"Jay was better here and should have won"
ADVERTISEMENT
Article continues below this ad
The opinions will never end between the fans of bodybuilding, as the judgment is subjective. There will always be contrasting views on the potential winner and the announced winner among the fans. Watching this video of the 2001 final, whom do you think was more deserving to win in 2001 Mr. Olympia? Let us know your answers in the comments section.
Watch This Story: Despite Being on Crutches Ronnie Coleman Gave Fans Something Stronger Than Whole Pre-Workout Jar
Edited By: Simar Singh Wadhwa