Bodybuilding Icon Warns Against Gym Mistakes That Can Ruin Your Back Gains
Published 03/18/2023, 5:30 AM EDT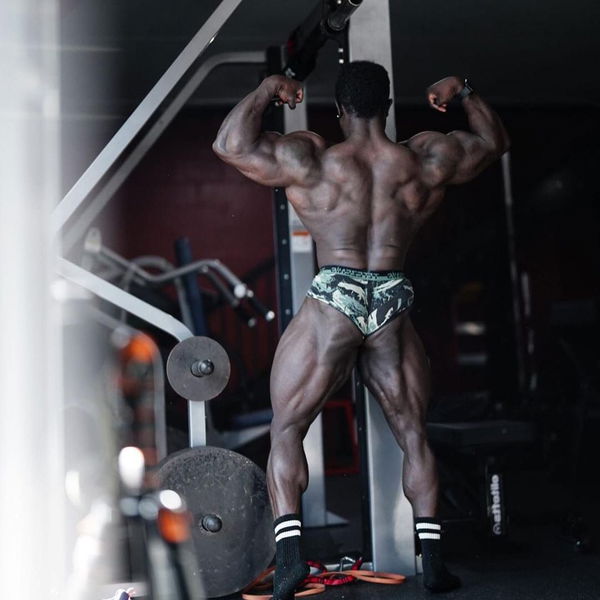 A gym is a place where people work hard to build a better version of themselves, physically and mentally. However, to obtain the results, people sometimes do not focus on the mistakes they are committing in their routines. Recently, an established pro bodybuilder who has won two Arnold Classic titles, and has been a consistent runner-up in Mr. Olympia, Terrence Ruffin, posted a YouTube video regarding the same.
In the video uploaded by Ruffin, he discloses multiple common mistakes that he observed people making while working out their back muscles. Moreover, how those mistakes are ruining their back gains. Let us have a look at what warnings did he give to the fitness freaks.
2x Arnold Classic winner shares his back routine
ADVERTISEMENT
Article continues below this ad
Terrance Ruffin has been a fabulous Classic Physique contender for a few years. He has been giving some tough fights to 4x Mr. Olympia Chris Bumstead. When speaking about Ruffin's physique, his back is where he excels. And in this YouTube video, he shares some of the best techniques he uses to train his back muscles.
 

View this post on Instagram

 
Ruffin shot the video in the Powerhouse gym in Tampa, which is one of the oldest in the town. Without any delay, Ruffin shares the routine he follows, as he, one by one, depicts the workouts he does in his regimen.
The bodybuilding champion began with a wide grip pull down, which helps build lats. Later, he performed chest-supported T-bar rows, T-bar rows, machine preacher curls, and rear delts reverse cable flies. Moving on, while performing all these exercises, he also individually listed the mistakes he generally witnesses in the gym. Further, he pointed out the most common mistakes people make while gymming.
Bodybuilding star points out common back-ruining mistakes
ADVERTISEMENT
Article continues below this ad
Workouts are no rocket science. However, the science behind how a workout trains a particular muscle is important to be acknowledged and felt during the session. While pointing out the mistakes in the above-mentioned workouts, Ruffin said, "In chest supported T-Bar Rows with a wider grip. Basically, the biggest mistake I see here is people not really moving their scapula or their shoulder braids. They are very fixed when they are doing it." In the next workout, that is T-Bar Rows, he explained, "The biggest mistake I see when people are doing T-Bar Rows, especially with people who have a wider frame or a little bit of muscle is they grab the v-bar handle, and they can't get their lat fully contracted."
While speaking about the mistakes in wider grip pull-downs, Ruffin said, "Basically, like the biggest mistakes I see with this one is people rocking. Momentum is not going to help, it's actually going to hurt you in the long run." And eventually, in rear delt cable flies, he revealed, "Biggest mistake I normally see here, and it's hard to spot is what you thinking internally. Most people that are doing reverse flies they are doing thinking about just getting from point A to point B and the easiest way possible."
ADVERTISEMENT
Article continues below this ad
Terrence Ruffin has had an unsuccessful Mr. Olympia 2022, after which he withdrew his contention to defend Arnold Classic's title in 2023. However, his fans are more than confident that he will come back stronger in Mr. Olympia this year. Ruffin gave a master class on building back and how to not spoil the gains instead. The most common mistakes remain the basics, such as form, weights, grip, and unnecessary momentum in a workout. Did you like these lessons from the beast? Let us know in the comments section.
Watch This Story: Bodybuilding Legend Arnold Schwarzenegger Unveils His Ultimate One-Step Weight Loss Strategy
Edited By: Simar Singh Wadhwa