Video: 70-Year-Old Female Bodybuilder Flaunts Her Strength Against Man Half Her Age
Published 02/27/2023, 5:45 AM EST

Follow Us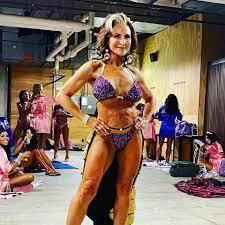 While bodybuilding may come off as a male-dominated sport, there are several female competitors who are proving it otherwise. Besides the gender composition, this woman from Texas is also shifting the age-related dynamics of the game. Renee Landers, an NPC competitor who embarked on her bodybuilding journey when most retire, recently posted an impressive feat on social media. 
In the Instagram post, Landers was seen in an arm wrestling challenge with a young man. Getting on with it, the athlete showcased her strength in full swing while dominating her opponent. Let's find out what went down. 
Renee Landers dropping jaws at 70
ADVERTISEMENT
Article continues below this ad
As per the social media update, the bodybuilder shared a snippet of herself destroying a young man in an arm battle. After moments of settling in, the wrestle eventually took off as she geared up to her full potential. Evidently, the young man was taken by surprise and can be seen expressing his shock. 
"Just a little arm wrestling with a guy half my age! Fun times at the HLSR BBQ cookoff. At the Goody Girls Tent," the caption read. Additionally, she expressed her humility by thanking the person filming and the young man whom she beat. "Thanks Marsha for filming it. And thanks Ian for being a good sport and cutting me some slack!" it read. 
The man, probably in his 30s, tossed in pain after Landers defeated him. Moreover, one of the onlookers could be heard saying, "she's got some guns over there," to point out the 70-year-old's bouldering biceps stunned the crowd, consequently applauding her victory. However, what led her to this shredded life? 
Renee Landers coincided with bodybuilding
ADVERTISEMENT
Article continues below this ad
Talking to sources about her early life, the mother of one once opened up on her remarkable journey to bodybuilding. Apparently, she underwent a spinal surgery that encouraged her to make amends for her complacent lifestyle. Besides, with the help of her trainer, she zeroed down on her physical limits and triumphed above them all.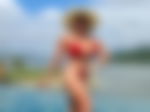 Presently, she trains five days a week and went on to be the first NPC athlete starting her journey at 69 years of age. She specializes in the bikini category and shares her workout successes on the platform.
ADVERTISEMENT
Article continues below this ad
Watch This Story: Most Underrated Exercises For Muscle Growth According To Famous YouTube Bodybuilding Vlogger.
Sanders stands as an inspirational figure for women all around the globe to get on with their fitness endeavors without giving it a second thought. Moreover, her accomplishments in the field significantly add to the message she's proliferating.
Edited By: Simar Singh Wadhwa