"We Were So Ripped"- Arnold Schwarzenegger's Pre-Game Ritual Was Something No Other Bodybuilder Can Risk Doing
Published 06/06/2022, 9:45 AM EDT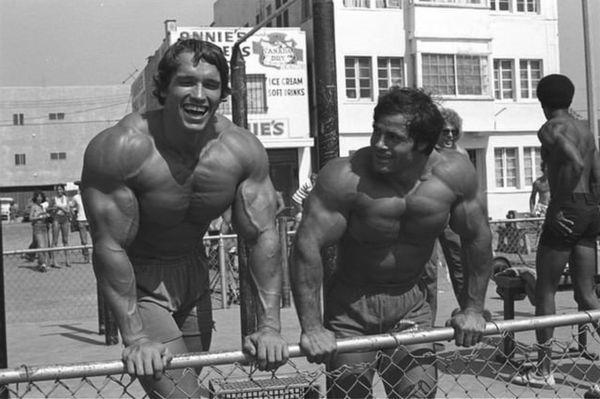 How many bodybuilders would probably take someone's breath away? Most of us watch our favorite bodybuilders flexing their muscles, posing away to titles. However, some bodybuilders capture the hearts and minds of everyone. Ever since he won his first Mr. Universe title at age 20, Arnold Schwarzenegger knew his destiny. He was so confident in himself that he knew he was winning the competition before it started.
Transitioning smoothly from being a successful bodybuilder to an action-hero protagonist, many envy Schwarzenegger's life. All this happened because of his hard work and dedication. Celebrating before a contest? Well, that's just the way he was!
ADVERTISEMENT
Article continues below this ad
Arnold Schwarzenegger oozes confidence
While bodybuilders finesse their bodies to the perfect bicep curls, one cannot imagine the time they spend working on it and on their preparation for a significant event. Mr. Universe and Mr. Olympia contests are the most prestigious competitions associated with bodybuilders. Thus, an athlete takes his time, ripping their body to perfection before entering the contest. But in Arnold's case, he did the exact opposite. 
Working towards his goal at a very young age, Schwarzenegger just knew what the outcome could be, so predictable that he went to the fabled House of Pies and tasted their victory. Tagging along with him was his long-time friend and workout buddy, Franco Columbo. The confidence in his ability is remarkable as he talked about those glorious moments in an interview.
"There were times when Franco and I felt like we were so ready and we were so ripped in compared to the others, that we knew that we're going to have the competition in our bag. I mean, it's something that we felt. So we would go like a week before and celebrate that. We will go to the House of Pies before we won. We will be celebrating," said Arnold. 
A two-time Mr. Olympia
ADVERTISEMENT
Article continues below this ad
The level of confidence they displayed put other bodybuilders to shame. As for Columbo, he happens to be in the same timeline that Arnold competed in events. Nonetheless, Columbo won two Mr. Olympia titles in 1976 and 1981. He remained a friend with Arnold and was the best training partner for "The Austrian Oak" for years to come. 
ADVERTISEMENT
Article continues below this ad
To be at the top of their game is something they dreamt of at a very young age. Both Arnold and Franco had the same vision and goal as they met their ambitions. However, the level of audacity to eat pies before the biggest moment in your life? Now that deserves a standing applause. It is just unfair what Arnold Schwarzenegger did to bodybuilders back then. A living legend!
Edited By: Simar Singh Wadhwa