Why Does Simone Biles Wear a GOAT Leotard While Competing?
Published 01/02/2022, 11:00 AM EST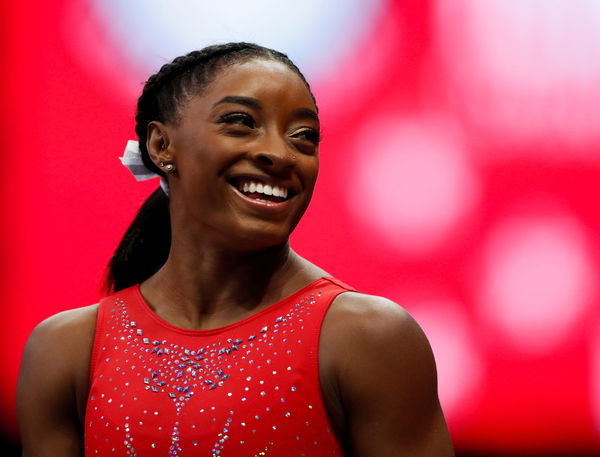 ---
---
A combined total of 32 Olympic and World Championship medals makes Simone Biles a living legend. The sport of gymnastics has provided many incredible athletes. However, Biles' stunning performances in the last decade have cemented her legacy as one of the greats. In many competitions, she attempts jumps and leaps that cannot be matched.
ADVERTISEMENT
Article continues below this ad
Hence, while talking about the GOAT of gymnastics, Biles' claim to that statement is as concrete as ever. She has individually risen the interest of the sport throughout the world. Moreover, her famous GOAT leotard is special enough that she has made strong claims to that statement.
ADVERTISEMENT
Article continues below this ad
Why does Simone Biles wear a GOAT leotard?
Even though she has astonishing achievements in the sport of gymnastics, many people give out constant criticisms of her performances. Thus, to hit back all the haters, she bedazzled her leotard by engraving a goat named Goldie to symbolize her achievements in the sport. Talking about her decision, she had spoken to Marie Claire's Megan DiTrolio on why she decided to get a GOAT behind her leotard.
"The idea was to hit back at the haters. I didn't feel like it was necessarily fair how they could keep saying whatever they wanted, but then if I said something, it wasn't fair. [The haters] were joking like, 'I swear, if she put a goat on her leo, blah, blah, blah.' That would make them so angry. And then I was like, 'Oh, that's actually a good idea. Let's make the haters hate it, and the fans love it.' And so that's exactly what we did and why we did it," said Biles.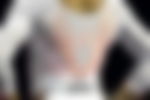 One thing's for sure, her balanced personality gives out her complete persona as she plays her character to perfection. Speaking the right statements when put in the spotlight, Biles' career has seen a lot of ups and downs. But, her commitment to the sport has taken gymnastics to another level. More people are interested in the sport as her significant achievements are right up there with the best.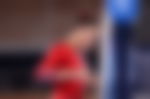 Why is Simone Biles called the GOAT?
So, is she the GOAT of gymnastics? Some of her achievements in the sport are quite surreal. Although her recent withdrawal from the 2020 Tokyo Olympics caused a lot of uncertainties, there is not even one gymnast who can boast of a better track record. She is the most decorated gymnast of all time with her medal tally in the Olympics, World Championships, and other major competitions.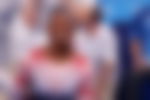 During the 2016 Rio Olympics, she entered the stage and performed remarkably well. She won four gold medals for her performances in the all-around, vault, floor exercises, and a team medal with team USA. In addition, her display on the balance beam earned a bronze medal during those games. The extraordinary leaps and subtle landings took her greatness to the next step as fans enjoyed her performances. The height she gets while jumping around the floor is incredible. The sheer brilliance in which she pulls off the double-twisting double somersault from the balance beam is quite unbelievable.
Considering she is still 24, time is still on her side. Gymnasts peak at a very young age, unlike other sports. Agility and balance are the keys to being a successful gymnast. Add the immense strength of Biles to the mixture, it is of no doubt how she achieves the unthinkable. Thus, Biles' claims must be noted. However, there is a catch.
What does it mean to be great?
ADVERTISEMENT
Article continues below this ad
One thing that separates the best from the GOATs is the model of consistency. Throughout the years, Usain Bolt and Michael Phelps displayed an incredible amount of determination to be where they are right now. Nonetheless, the recent withdrawal from the 2020 Tokyo Olympics is a noteworthy moment. Many athletes figure a way to fight through their expectations and pressures to attain legendary status. Although her move is incredible and must be appreciated, is she still the GOAT considering the competitions she missed out on?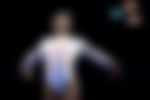 Opinions matter in every sport. Despite pulling out of some competitions in Tokyo, she still managed to win medals for her country, upon her return. A silver medal with Team USA while another bronze on the balance beam is important for her career. With her struggling with mental health issues, it is difficult to regain focus while performing in various competitions. Thus, Biles can be appreciated.
ADVERTISEMENT
Article continues below this ad
Her stakes on being the GOAT are solid. Her aura is so bright, that many gymnasts keep her as the benchmark when it comes to competing at the highest level. Simone Biles as of right now is the undisputed GOAT of gymnastics.
WATCH THIS STORY- Shocking LeBron James Insults From Michael Jordan, Shaquille ONeal and other NBA Legends