"She Could Pick All Three of Us Up and Slam": Gymnastics GOAT Simone Biles Get an Interesting Wrestling Challenge
Published 02/03/2023, 9:45 AM EST
7x gold medalist, Simone Biles's physical aptness has eternally been weighed up by the media. Her body-to-strength ratio is jaw-dropping. She is undoubtedly the most decorated gymnast of all time with a set of unbreakable records. Additionally, her iron-willed nature has vaulted her to the top of the game.
In a podcast by The Park Show on YouTube, the co-hosts Charles, Bruce, and Nolan retrospect on the champion athlete's strength. Moreover, they debate over the matter with varying points of view finally, issuing a challenge to her. What do you think the challenge was about? Let's find out!
A new challenge has been thrown at Simone Biles
ADVERTISEMENT
Article continues below this ad
As per the video, the trio sat face-to-face and discussed how the 25-year-old athlete can or cannot out-wrestle them with her core strength. While one of them expected her to toss them around, others primarily disagreed on the fact. "I put money that she's stronger than you," remarked co-host Bruce.
"you see her how she's built. I'm pretty sure she could pick all three of us up and slam us down on the ground with relative ease… I think she's a fantastic athlete and I think she could pick you up and toss you. I think if you wrestled with her she would manhandle you," he added. However, Nolan had a hard time consenting to the speculations. He said, "She's got a small body weight like I'm much heavier…" 
Furthermore, Charles felt such a scenario would be embarrassing for him. Unable to come to terms, they ended up issuing a challenge. "Simone, if you're watching this, take us up on this challenge. We will film you picking up," they declared. Nevertheless, all three of them did agree with the fact that the gymnast is supremely strong. Do you know how she was introduced to the sport, though? 
ADVERTISEMENT
Article continues below this ad
Simone Biles's encounter with the sport. 
Born in Columbus, Ohio, Biles was a lively kid. However, she spent a part of her childhood in foster care. Later on, adopted by her maternal grandparents. Thus, 6-year-old Biles once visited a gym whilst on a field trip and was instantly captivated by the sport. She took up gymnastics and practiced for the love of it. Nonetheless, life had something bigger in store. The officials took notice of her and reached out to her guardians. The rest is history, as you know it.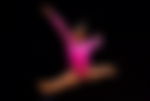 Simone Biles has attained great heights at such a young age. Her achievement-laden career is a reflection of her passion and involvement with gymnastics. The only female gymnast to successfully land the Yurchenko double pike she is a living legend. Do you think she can easily ace the challenge? Let us know in the comments!
ADVERTISEMENT
Article continues below this ad
Watch This Story: Olympic Legends Simone Biles, Michael Phelps and Katie Ledecky Hangout with Gold Medals Around Their Neck
Edited By: Abhishek Kumar