Simone Biles Picked Two-Time Olympic Gold Medalist as Greatest Athlete of All Time Over Michael Phelps and Usain Bolt
Published 05/20/2022, 8:30 AM EDT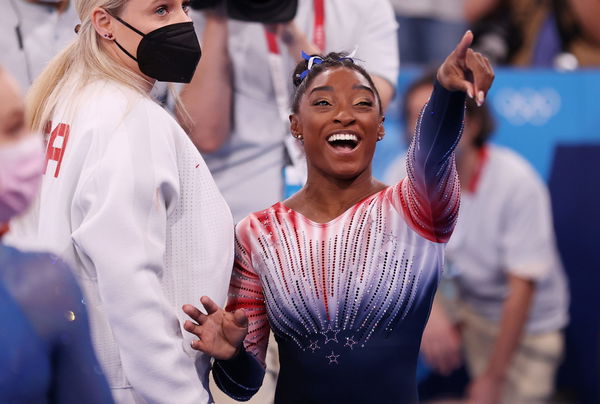 Olympic Game showcases different world-class athletes on the planet who look to bring glory to themselves and their country. Under the Olympic Torch, athletes perform at their highest level to showcase their talents. It was the case for Simone Biles, who dominated the sport from start to finish. She is a seven-time Olympic gold medalist and arguably the greatest gymnast ever to walk on Earth.
Gaining all plaudits for her determination and courage, she dominated the sport for a long time. Besides Michael Phelps and Usain Bolt, Biles' achievements send her to the top. But, who is the greatest athlete of all time, according to her? It remains a mystery, but Biles debugged it by stating Ashton Eaton, and he comes into the picture. 
ADVERTISEMENT
Article continues below this ad
Simone Biles shares views on GOAT athlete
In an interview with Zac Efron, Biles revealed her favorite athlete of all time is the decathlon expert from the USA. "Who is the greatest athlete in the world?" questioned Efron, to which Biles replied, "Ashton Eaton". For some, it may seem like a strange answer, but Eaton is a legendary athlete.
Born on 21st January 1988 in Oregon, Eaton is a supreme athlete. Many athletes perfect each sport for a lifetime; however, decathlon athletes show their expertise in 10 track and field sports events. Hence, it is where Ashton Eaton earned his bread.
He is a two-time Olympic gold medalist at the 2012 London Olympics and the 2016 Rio Olympics. In addition to that, he won two back-to-back World Championships gold medals in 2013 and 2015, while winning three consecutive gold medals in the heptathlon at the World Indoor Championships. The heptathlon comprises seven events compared to the decathlon.
The myth that is Ashton Eaton
ADVERTISEMENT
Article continues below this ad
Ever since he started competing, Eaton had his say in almost all the decathlon and heptathlon events. The 2015 World Championships saw him get the title of 'The greatest athlete in the world.' He set the world record by scoring 9045 points during that time, which was ousted by Kevin Mayer of France in 2018. After tasting victory at the 2016 Olympics, he retired from his beloved sport the following year.
If Ashton Eaton 🇺🇸 had made all his PB in the same decathlon he would have scored 10,083 🥴

100m: 10.21s (1135)
LJ: 8.23m (1188)
SP: 15.40m (847)
HJ: 2.11m (1011)
400m: 45.00s (1180)
110mH: 13.35s (1187)
DT: 47.36m (829)
PV: 5.40m (1102)
JT: 66.64m (912)
1500m: 4:14.48 (692) pic.twitter.com/gIMHy4Oub9

— Victor K Almeida 📰 (@AlmeidaVictorK) October 28, 2021
ADVERTISEMENT
Article continues below this ad
Simone Biles is right in calling him the finest athlete in the world. Most people stick to either Michael Phelps or Usain Bolt, but Ashton Eaton could do it all. If the decathlon had a swimming competition, he might win that too; who knows!
WATCH THIS STORY-  "Collapsed Onto My Bedroom Floor"- Simone Biles Detailed on Her First World Championships Title Victory
Edited By: Simar Singh Wadhwa