Act of Horror Continues, Nasty Fall Leads to Horse Being Euthanized, Leaving Racing World Devastated
Published 03/19/2023, 5:30 AM EDT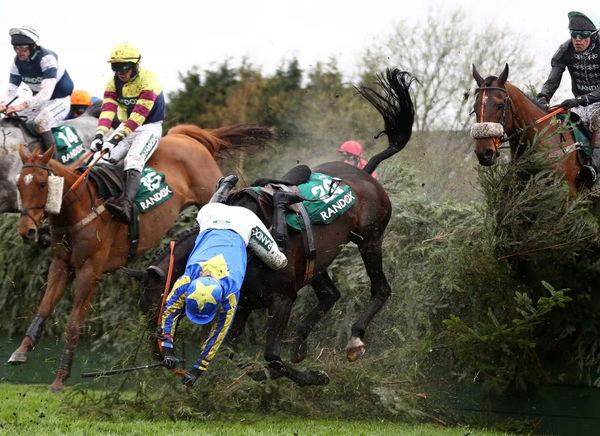 The horse riding community in Australia has been hit by horrifying news for the third time in the recent past. A 1200m race at the Abell Stakes saw the crumbling down of Fluorescent Star and its rider Teo Nugent into a sad state of affairs. This ensued when the ride clipped the heels of The Boat, rendering throwing the mare's head to hit the ground first.
Nugent was knocked out senseless for a good four minutes. He was rushed to the hospital. While Nugent is under critical conditions, this isn't all. The twist of fate didn't bear good news for Flo.
A terrible day at the racecourse
ADVERTISEMENT
Article continues below this ad
On one hand, Star fell on her head, banging into the turf, and fell over the racetrack barrier. Nugent seemed to fall on his back and lose consciousness for a couple of minutes. Both the victims suffered lethal injuries and needed medical attention. But unfortunately, the injuries to the horse were extremely serious that she needed to be euthanized.
Hope Teo Nugent is okay. That was a horrific fall…

— Alexander Grant (@AlexGrantOz) March 18, 2023
Nugent was also given first-hand treatment by the medics on the course and was later taken to Royal Melbourne Hospital. After the primary check-up of Nugent, the Victorian Jockeys Association came out with an update. They revealed that he has suffered a C1 fracture according to the initial scans. Let us have a look at the statements released by the associations and friends after the accident.
The racing world paid its condolences to Star
After the accident, the trainers of Florescent Star were broken. They tweeted their hearts out as they wrote, "We are devastated. We love you Flo". On the other hand, the winner of the race, Harry Coffey, also shared his thoughts after the race. He said, "Thoughts to Teo and obviously the horse's connections that he was on."
ADVERTISEMENT
Article continues below this ad
We are devastated. We love you Flo 💔

— Yargi Racing (@YargiRacing) March 18, 2023
Racing Victoria also offered their condolences as their spokesperson stated, "RV extends its condolences to the owners of Florescent Star, trainers Amy and Ash Yargi, their stable staff and all who cared for the horse throughout her career and are greatly saddened by their loss following her fall at The Valley." 
ADVERTISEMENT
Article continues below this ad
Victoria Racing has been witnessing a frightening series of accidents on track. Just past week, 23-year-old jockey Ethan Brown suffered a chose shave. Post a race fall, he went through trials of fire, rendering him to sustain a lacerated kidney. The damage was furthered by his horse tripping over him. As fatalities such as these has taken over Flemington racetrack, health updates concerning jockeys and their rides often leave the horse community numb and cold. 
Watch This Story: People Don't Realize Equestrian Brianna Noble Sheds Light on Bay Area Horse Culture
Edited By: Jahnabi Choudhury