"LOVED THIS EXPERIENCE SO MUCH!": Gymnastics GOAT Simone Biles Surprises Young Fans in Houston
Published 02/02/2023, 9:15 PM EST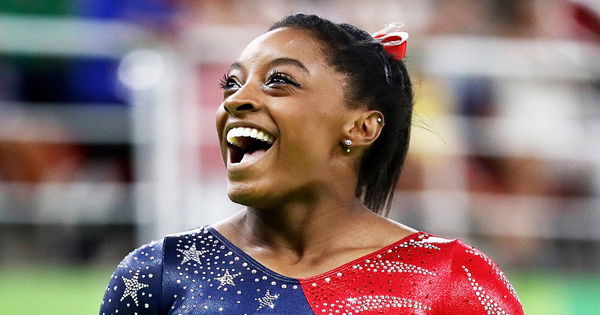 With seven Olympics medals to her name, Simone Biles is an inspiration to girls from all walks of life. The petite Olympic Gymnast has set some motivational standards for young girls to follow. Therefore, meeting Biles in real life would be a dream come true for many girls. Starstruck would be a mild word for what they will be feeling after seeing their inspiration in real life.
This is why Simone Biles recently went to a branch of her business, Athleta, to surprise many of her young female fans. And as expected, people were excited. When Biles shared a video showcasing her meet and greet, the comments started rolling in.
Simone Biles Meets Young Fans
ADVERTISEMENT
Article continues below this ad
Biles surprised her fans and disrupted a dance cardio class being conducted at one of Athleta's studios, which is a business in which Biles is a partner. The young participants were shell-shocked and could not believe their eyes at first. The adorable video that Biles put up on her Instagram shows her dancing and frolicking with her young followers, and her audience can't get enough of the experience.
 

View this post on Instagram

 
Biles posted the video with the caption, "Surpriseee! 😉Got a great sweat in with some dance cardio at my local @athleta store (and loved getting to meet so many of my fellow Houston girls)!🥰 #PowerOfShe #athletapartner" She became a partner with Athleta after she started advocating for mental health. One of the reasons for her withdrawing from 2021 Tokyo Olympics was that she wanted to work on her mental and physical well-being.
According to a yahoo!finance article, Biles' partnership with Athleta involves a clothing line designed by Biles herself, along with the mission to persuade young girls to never give up on their dreams and work hard to make them come true. The visit was a part of the same.
Fans React To Biles' Insane Surprise
The reactions to the video are priceless, and here are some of them:
"I LOVED THIS EXPERIENCE SO MUCH! It was a blast seeing everyone be surprised & living their best lyfeeeeeeee. Thank you @simonebiles & @athleta for this moment! It was so special! Let's to do it again!!!!! ✨🎉💞"
"Amazing 🙌😍"
"Love this🤗🤗"
"Simone you are the best♥️♥️🇨🇦"
"Wao, amazing . They will remember that moment for ever. You are the best. My daughter love you😍😍"
ADVERTISEMENT
Article continues below this ad
"you are awesome. I'm so glad I got to meet you."
"I love you OMG"
 

View this post on Instagram

 
ADVERTISEMENT
Article continues below this ad
It's clear that what Biles' did means a lot, not only to the kids but to their parents as well. Having an experience like this with a celebrated Olympian is something so rare that these young women will always remember it, and it will leave a positive impression on their lives for sure. Do you think what Biles did was delightful?
Watch This Story: Simone Biles and Jonathan Owens Spend Time Away From Each Other Before Wedding
Edited By: Debmallya Chakraborty