Simone Biles Confirms Fiancé Jonathan Owens's Approval for "Sugar Daddy" Ahead of Wedding in a Hilarious Confession
Published 03/19/2023, 7:17 AM EDT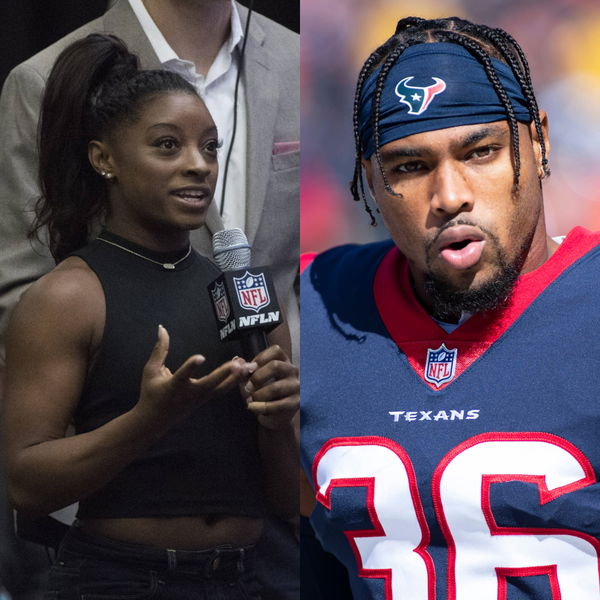 Bride-to-be Simone Biles has kickstarted her wedding shenanigans. From a bougie bachelorette party to bridal shopping, her wedding is nothing less than an expensive affair. Having a wedding as extravagant as this one is bound to burn a hole in their pockets. Therefore, the gymnast previously made a hilarious indication of appointing a sugar daddy for herself. Nevertheless, it seems like fiancé Jonathan Owens has approved Biles's idea. 
Recently, a fan shared a hilarious take on Simone Biles's sugar daddy idea. An unfiltered Biles went ahead to announce what Jonathan Owens actually thinks about having someone to sponsor the extravagant wedding. Let's check it out!
Do Simone Biles and Jonathan Owens agree to a sugar daddy?
ADVERTISEMENT
Article continues below this ad
Once a careful spender, Simone Biles is now fulfilling her desire of creating a lavish life with Jonathan Owens. Apart from the wedding preparations, the couple is also building their dream home. Indeed, they are bearing unimaginable expenses. Amidst the so-called financial strains of the $16 million net-worth gymnast, she previously hinted at appointing a sugar daddy on Twitter. 
i just checked my credit card statement, i need a sugar daddy LMAO

— Simone Biles (@Simone_Biles) March 17, 2023
Nevertheless, a fan reacted to Biles's statement by posting a picture of a frowning man about to have a heart attack. He also added a caption with the picture stating, "Simone's Fiance rn"
Taking a hilarious dig at the fan's post, the bride-to-be expressed, "Hahahaa no! We agreed" Simone hinted that fiancé Owens has no issues with her idea. The gymnast also added, "Save our money duh." The couple believes that appointing a sugar daddy would help them in saving money and have a grand wedding simultaneously. Aren't they the most savvy celebrity couple?
Read More: "Can't Wait to Marry Your S*** A**": Jonathan Owens Sweet Gesture Melts Simone Biles Ahead of the Wedding
ADVERTISEMENT
Article continues below this ad
As their wedding date is nearing, the couple has begun expressing their thoughts on their crippling finances. A few days ago, Biles expressed her fear of going broke after the wedding. 
Simone Biles asked people not to invite her after her wedding
Although Biles is happily planning the biggest day of her life with her fiance, she carries the fear of going broke due to her childhood traumas. The gymnast understands the importance of money and is not a huge fan of splurging. However, since weddings are an extravagant affair, Biles had let her money do all the talking. She wrote, " Don't invite us nowhere. We will probably be inside for the rest of our lives when we pay for this house & wedding."
ADVERTISEMENT
Article continues below this ad
Watch This Story:  Iconic gymnast Simone Biles and Legendary Michael Phelps Astonishing Car Collection
However, although Biles is afraid of running out of money, it is her past experiences that make her take trials of fire. Otherwise, she lives a comfortable life at her luxurious mansion in Spring, Texas.
Edited By: Jahnabi Choudhury