Surfing Group's Brave Act Rescued a Struggling Deer in Unfavorable Conditions Once
Published 03/18/2023, 4:36 PM EDT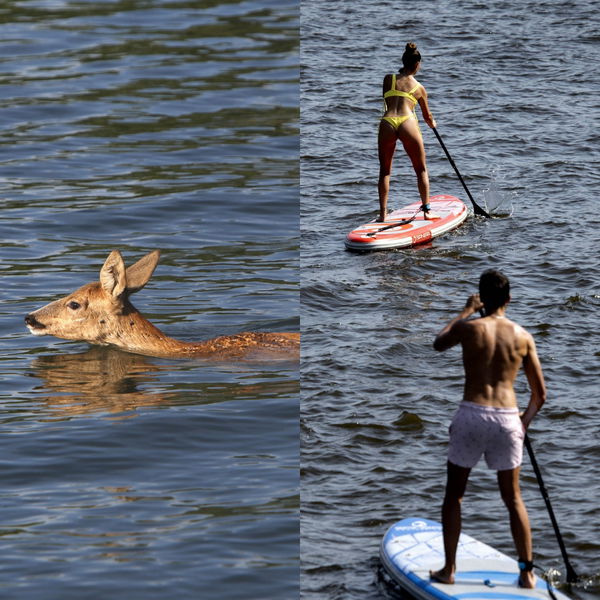 The sea maybe home to many, yet it is also one of the most dangerous places for those who are not adaptive to its nature. And there have been several incidents in which people had to succumb to the sea. However, this time around, it was not the case. The courageous surfers were the rescuers to a speechless animal. A few years ago, in Belmar, a deer was caught in a difficult situation when he sprinted into the sea without knowing the danger that lies ahead.
As the deer went into the deep, a couple on the shore spotted the deer and came to its rescue. Fortunately, it didn't have to reach a critical condition in the sea and was retrieved just in time.
The story of a successful rescue
ADVERTISEMENT
Article continues below this ad
As the couple, Drew Inman and his girlfriend sat on the beach's shore in Belmar on a lovely Tuesday, they witnessed something strange. A deer, who is not an aquatic animal, ran into the sea sprinting in the sand. And as it is not an animal familiar with tides, it gradually got into more and more trouble as the tides hit him hard. With every tide, the deer got more out of control. However, as Inman watched him go in, he went behind him and tried to rescue the deer.
ADVERTISEMENT
Article continues below this ad
But as he wasn't a trained surfer or indulged in water sports, Inman couldn't do much on his own. While speaking with app.com, Inman said, "Before we could process what was going on the deer had (swum) nearly 25 yards out from the shore." The unfamiliar cold water and continuous waves didn't let him succeed in what he was trying to do, and that is when the other surfers arrived. 
Although the deer was pretty deep into the sea now, the surfers got in and tried multiple things before succeeding in the rescue. They slowly went near the deer, and fortunately, a wave also took the deer near them. Further, as the deer came close, one of the surfers caught hold of him and took him in his arms. Since the deer wasn't in much comfort it continued to try to jump out of his hands. But he couldn't, as the surfer gripped him tightly. Eventually, the group of surfers took him out of the sea and saved his life.
ADVERTISEMENT
Article continues below this ad
It took nearly 30 minutes for the surfers to rescue the deer. The rescuers made a great effort to bring the deer back to the shore. Looking at the rescue, what do you think about the fabulous effort of everyone involved in it? Let us know in the comments section.  
Watch This Story: "Most Humans Couldn't Do This": World's Best Surfing Miniature Bull Terrier Surprises Fans With Never Seen Before Skills